The 
Daredevil Twitter
account recently released a poster that has clued fans in on something big upcoming!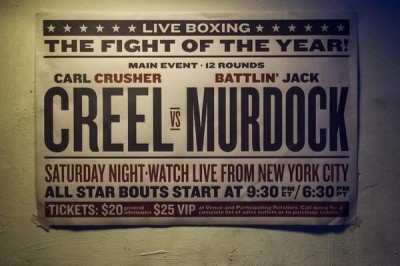 Courtesy of Daredevil's Twitter
The photo released was of a poster depicting a Main Event fight between Carl Creel aka Absorbing Man (Villain in Daredevil) and Jack Murdock aka Daredevil's father. Someone pinch me quick! This could only mean one thing, drum roll please!
Daredevil
is back! Yes, you heard it here folks: 
Netflix
will be releasing Marvel's
Daredevil
series worldwide on April 10, 2015. Now, I will be honest, I have never watched
Agents of SHIELD
, but I do know the villain Creel has already made an appearance in two of their episodes--could this mean a crossover in
Daredevil
? I surely hope so. Who wouldn't want to see that? Big things are happening on Netflix these days. I can barely contain myself; I am looking forward to their new installments in the future! Make sure to check out Marvel's
Daredevil
on Friday, April 10! Watch the teaser trailer here:
Keep Up With PopWrapped On The Web!