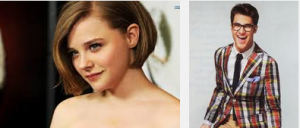 Courtesy of hqwalls.org and teen.com
Carleen Slon
Staff Writer
@Carleen1991
The team behind
Tale of The Princess Kaguya
 has just released its U.S voice casting choices, along with an October release date for American fans! The plot of the film is as follows:
Found inside a shining stalk of bamboo, a tiny girl grows into an exquisite young lady, raised by an old bamboo cutter and his wife. From the countryside to the grand capital city, even unseen she enthralls all who encounter her, including five noble suitors. Ultimately however she must face her secret fate.
Thanks to
Deadline,
we know Chloe Grace Moretz,best known for her role in
(500) Days of Summer,
will lead as the titular character of Princess Kaguya. James Caan, Mary Steenburgen, Darren Criss, Lucy Liu, Beau Bridges, James Marsden, Oliver Platt, and Dean Cain have also signed on for the film. Kaguya is based on the an ancient Japanese folk story,
The Tale of the Bamboo Cutter,
and was well received when it was released in Japan last November. American fans can expect to see the film starting October 17, 2014.
Keep Up With PopWrapped On The Web!