Deadheads, we've made it to the one-month mark! In fact, in EXACTLY one month,
The Walking Dead
will find its way back to our screens with its fifth season. The fourth season ended with nothing but unanswered questions and confusion. The group was still partially separated; Judith, Tyrese and Carol were still wandering the woods on their way to Terminus and Beth was still missing in action while Rick and the rest of the gang found themselves in a boxcar among cannibals at "sanctuary." And yes, I know that it's not technically been confirmed that the Terminus residents are cannibals, but all signs pointed to that last season and the new tagline "Hunt or be Hunted" certainly alludes to that, as well. But let's get to the important part, shall we? A new promo poster has been released featuring none other than the swoon-worthy fan favorite,
Daryl Dixon
(played by the yummy Norman Reedus). Because, let's be honest; other than Glenn and Maggie, he's the only one we really care about anymore, right? Or...is that just me?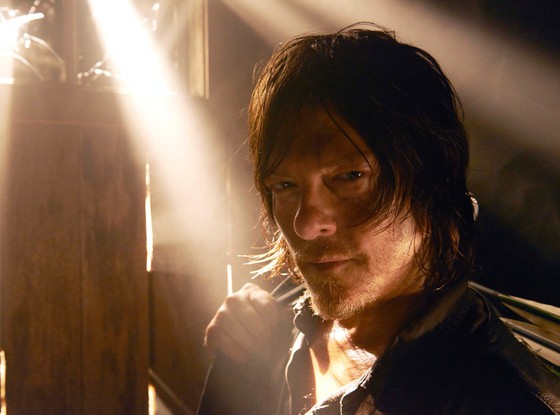 AMC
I mean just look at him! The sun shines down upon him like a halo. Clearly this means he will save everyone like the avenging angel that he is. The new season promises lots of action and suspense, and this particular Deadhead is ready for all of it. After the last leg of season four being a lackluster disappointment, I'm ready to reclaim my place on the edge of my seat vibrating with anticipation for the next scene. So far we've seen a glimpse of season 5 with an explosive trailer out of Comic Con. And, if this is an accurate portrayal of how things are going, I am already feeling the heart palpitations. Steven Yeun, who plays Glenn on the series, said of season 5:
I remember a couple of scenes I would look over at what was going on in the scene and I would be like, 'What the eff? What are we doing? How is this legal?' It's grounded and real, too; it's not like torture or gore for no reason. It's literally, that is what would happen and we are trying to show it. It would not work on network television, let me tell you that.
Okay Glenn, we trust you! So what of it, Deadheads? What are you most excited about for season 5, or dreading the most? Let us know in the comments below!
Keep up with PopWrapped on the web!
Twitter
SoundCloud
Facebook
Instagram
Tumblr
Pinterest
YouTube