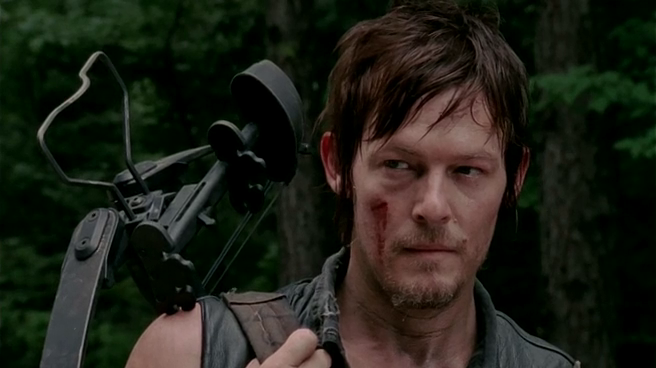 Courtesy of Wikipedia
A big fuss arose online after Robert Kirkman, the creator of AMC's post-apocalypse hit TV show The Walking Dead, claimed Daryl Dixon, the character played by Norman Reedus, could possibly turn out to be gay. Even though he managed to calm the waters by saying it is not something that we are to find out soon, the original statement was enough to get fans talking and speculating about Daryl's future in the show.
Now the showrunner, Scott Gimple, jumped in to reveal a bit on the long-discussed subject. Well, if you expect to get more information on whether the character is gay or not on the upcoming, fifth season of the series, you will be left disappointed. According to Mr. Gimple, Daryl's sexuality is not going to be addressed at this point. In his words:
"We know all sorts of things about the characters that we haven't revealed. We're not holding back information on Daryl's sexuality as any sort of big reveal."
He went on to further explain the character and how the story unfolds for him:
"The fact that there's still a question as to what Daryl's orientation is in season 5 absolutely speaks to Daryl's character; he is a very guarded, very closed-off individual in a lot of ways. We have been able to see him ever so slowly open up and show the other characters aspect by aspect as to what makes him tick. That's been a very satisfying journey for all of us on the creative side to portray. He's still on that journey."
Daryl's sexuality might not be the case anytime soon, but the show IS adding one new character this season who will be gay. And nothing more nor nothing less was revealed by the showrunner, so we are going to have to tune in for the fifth season to find out!
The Walking Dead
will be back on AMC, premiering October 12. Now, what do you think? Should the tough guy's sexuality should be a part of the show? Share your opinion with us in the comments below.
Keep Up With PopWrapped On The Web!
Twitter  SoundCloud Facebook Instagram Tumblr Pinterest YouTube