Tayla Whitehead
Staff Writer
th
has topped the viewer ratings, and in a shocking turn of events, even beat out the popular British soap,
Coronation Street
. The documentary is a mixture of a boy's weekend in  Brazil and Becks living the simple life with a BBC crew to film all the action. Beckham, along with two of his best mates, take a trip "into the unknown," otherwise known as the Amazonian Jungle and experience the beautiful country on
motorbikes
. "When I'm wearing a helmet no one knows who I am," he says, as he sets off to ride through Rio.  Although the anonymity only lasts while he has his helmet on, he gets to take in the moments of being unknown for awhile. It wouldn't be a David Beckham documentary if there weren't a few impromptu football games with Brazilian natives on the beach! He also meets with the Yanonami tribe who have no idea who he is, or even what the game of football is. As most boy's weekends would, this documentary is sure to provide a good few laughs and some great TV!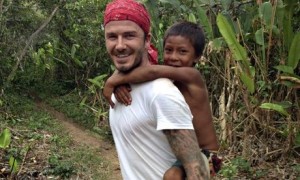 The Guardian
With mostly good reviews, the footy star's documentary has done very well, topping ratings and attracting
4.6 million viewers
at 8:30pm,but honestly, can David Beckham do any wrong?
Keep Up With PopWrapped On The Web!