Following the big-time controversy that Caleb Johnson
stirred shortly before his recent American Idol victory
, he's now finding himself in the hot seat with fans all over again after referring to himself as the "first rock winner." Questions were raised when Caleb chose to promote his debut album, 
Testify
, with such words because of the existence of Season 7 winner David Cook.
When asked by Lyndsey Parker in a more recent interview
to clear the air about the subject, he really just ended up accidentally stirring the pot up a little more as he explained, "David Cook, he's like 
pop
-rock. He never really did stuff like Zeppelin or Rush. He was more like… 
alternative
."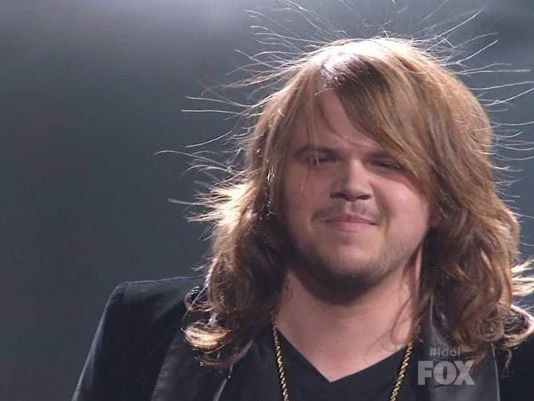 Citizen-times.com
In response to this?
David Cook, perhaps even surprisingly, bit back
. The eloquent, well-spoken "word nerd" has never really shown his snarkier side before, which makes it even more hilarious and awesome to hear him say, "I read somewhere that somebody said that I wasn't really rock. I read that. So, we're going to do this next song in an attempt to prove him wrong. Because I would like to think that we are not any one thing!"... ...all before kicking into a kick-butt medley of the Led Zeppelin classics "Rock and Roll" and "Whole Lotta Love." https://www.youtube.com/watch?v=p7K40svUQHs Devoted fans of 
Idol
will remember that, during his time on the show, David provided his own unique stylings to a number of pop and even classical hits including Lionel Richie's "Hello", Mariah Carey's "Always Be My Baby", and "Music of the Night" from 
Phantom of the Opera
. Meanwhile, Caleb's 
Idol
run was significantly more straightforward, featuring high-octane covers of rock classics such as Zeppelin's "Dazed & Confused" and Def Leppard's "Stay With Me." However, one has to consider the fact that this last season of 
American Idol
 featured significantly more-open themes than what Season 7 had to offer its contestants. Cook sang "Always Be My Baby" during a totally Mariah-themed show,  and "Music of the Night" on a night dedicated to Andrew Lloyd Webber. Johnson, meanwhile, only had to tackle such wildly vast themes as "Rock & Country" and "This Is Me." Should Cook have had the same liberties as Johnson did, surely we would have had more rock-oriented performances than we did. Though, as it stands, his creativity is what made him a successful contestant and artist post-show. Per Johnson's remarks, I'm willing to say that he didn't mean them to have the same amount of vitriol as many fans are taking his comments with. He was only trying to promote his new album, which is, indeed, a rock LP for the most part. In the future, though, one will learn that solid PR skills can take you a good ways in the industry. After all,
just look at David Cook
!
Keep Up With PopWrapped On The Web!
Twitter 
SoundCloud
Facebook
Instagram
Tumblr
Pinterest
YouTube