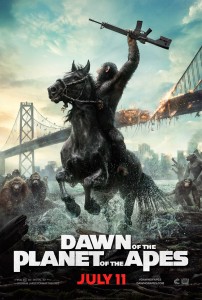 Rain Varela Staff Writer
@Rain_Varela
Dawn of the Planet of the Apes
, brings us back to the original concept of the original franchise; the story of a post apocalyptic world, where Apes have formed a dominant civilization. This concept was sorely missing from
Rise of the Plane of the Planet of the Apes
, but it was obvious that the first movie was an Appetizer to
Dawn
's main course. This new film could stand on its own, it doesn't need
Rise
to make it work, but it does give it more emotional depth. The story opens up with a montage of what happened after the events of
Rise,
 the spread of a killer virus all over the world. Caesar, the ape that James Franco's character had raised and loved had risen to become the ruler of a primitive ape city. He is strong, benevolent and wise. He now has a family of his own, one son who struggles under his father's shadow and another who is a mewling newborn. Andy Serkis, I have to say, is the King of CGI-capture acting. If you think his turn as Gollum was amazing, you should see this one. His Caesar totally dominates the screen every time he is on it. Hopefully, major award giving bodies would someday allow CGI-capture performances to be nominated or perhaps grant a special award for the feat. After all it is not common enough to have a category on its own, but Andy Serkis is reason enough to honor it. The story is epic in scale. It narrates a tale of humanity, family, love, friendship and betrayal. The action scenes were great, but it is the silent moments of interactions that take the cake. In a big special effects laden Hollywood films, most of us would usually get bored with the drama sandwiched in between explosions. But not this one, family dynamics and monkey politics is more fun to watch than gun toting. We also get a well placed throwback to
Rise
. The movie does not explicitly state what happened to the main human characters of the first film, but in a tender beautiful moment Caesar in a certain way, gets to see the only being he has ever know as his father. That is all I'm saying, I don't want to spoil it for you, but you should watch out for that part. Now for the human characters in this one, they were underwhelming, But they did good. The Apes after all were the stars of this movie, and it would take a very strong performance to upstage that. All in all,
Dawn of the Planet of the Apes
is a great, beautifully crafted movie. Every small bit works. The special effects, the performances, the eerie cinematography coupled with the thrilling background overture. It is a movie not to be missed, and you should really go and see it now.
Keep Up With PopWrapped On The Web!