Eight years ago, it was just an idea. Today, after being funded through Indiegogo and eventually winning big time at the Sundance Film Festival, the film
Dear White People
 is receiving rave reviews, according to the 95% fresh score on Rotten Tomatoes. This review follows its Friday, October 24, nationwide release via Roadside Attractions and Lionsgate. After this weekend, its grossed a total of $1,314,000 , and in total, including its select theatre release on Oct. 17, nearly 1.8 million, which is greater than expected for an indie film of its controversial nature turned feature film. Writer/Director Justin Simien tapped into some very relevant and unchartered territory for a what we have come to deem a "post racial" generation. With a biting sardonic tone and humor that not only pokes fun at white culture, but inwardly at black culture, it doesn't steer too far from the uncomfortable topics that Simien so cleverly explored in this film. Although
Dear White People
 is a somewhat milder version of the racial injustice actually occurring in our country, its spot on with its snarky depiction of the pressure one faces as a young, black millennial in "
post racial/post-Obama
" America. Trying to figure out and find your way as a 20 something, while assimilating just enough to the demands of pop culture and managing to not "sell out" and forget one's black roots.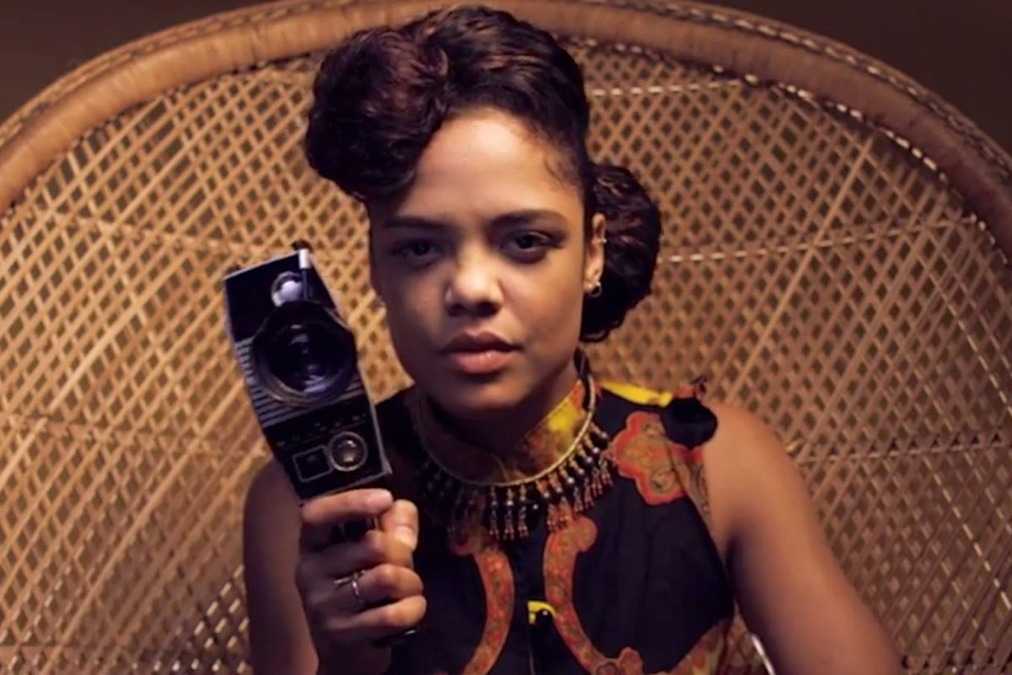 Courtesy of blacksheepreviews.com
Protagonist Sam White (
Tessa Thompson)
 albeit contradictory in her own ways, and secretly dating her film professor's white T.A., is just that. She's trying to find her way in a predominantly white world, (
c
ollege campus Winchester University), while dealing with family issues, strongly upholding her black roots and promoting equality, respect and acknowledgment of the black presence. Sam, an artist at her core, and a passionate speaker on racial injustice, shares her outspoken views on racism and cultural identity on her radio show "Dear White People," educating the white student body on why racism continues to exist and why many of the ways white people try to prove their lack of racism are null and void. Troy Fairbanks (
Brandon P. Bell
) is the son of Winchester's Dean of Students, (
Dennis Haysbert
), and is the "acceptable black man." Previously holding the position as Head of Armstrong Parker House, the primarily black housing facility that is losing funding, he walks around with a presidential air about him: top of the line blazers, a clean-shaven cut, and smile that makes the ladies melt- oh, and a white trophy girlfriend he is struggling with due to her inappropriate moments of political incorrectness. We see his character go through his own challenges of "keeping it real," and where to perhaps find a medium. Sam White's direct enemy publication, 'Pastiche', a National Lampoon-like comedy magazine, is taking in new members, and Colondrea 'CoCo' Conners, (
Teyonah Paris
) a shallow and superficial social climber, wants nothing more than to join the ranks of the staff at 'Pastiche.' CoCo thinks the likes of Sam and her crew of rebels are cliche' and dramatic, until he learns the hard way that if you don't truly know and define yourself, then others will. Then there's Lionel, (
Tyler James Williams
) a gay nerd who wants to write and struggles to identify with any of the many groups on campus. After being used and sort of seduced out for his work by another student with his own agenda, he finds his voice and surprises the audience in the end when he turns things up a notch. The lives of these four black students at Winchester University converge after controversy boils over in response to an outrageously offensive and "ill-conceived" theme of the campus humor magazine's annual Halloween party. The entire film was refreshing in a sea of black films that have yet to explore these same messages in the tone that Simien pulls off. A few people here and there have tried to peg the film as "
reverse racism
," "
black supremacy
," and more, when in fact, if one was to truly watch and pay attention to the message the film leaves you with, its none of those things, but rather a realistic portrayal of what these four different types of individuals are faced with, and what actual black students on white campuses deal with, and how they respond to these challenges of identity and more. Aside from all of the messages it carries, it touts some fresh faces on the acting scene, all full of raw talent, and whom I'm sure we'll be seeing plenty more of. I would implore every and anyone to see this film! Also-- when you do go and watch this film, wait for some more bonus stuff after the credits... ;-) https://www.youtube.com/watch?v=FjMNZUzhkCQ
Keep Up With PopWrapped On The Web!
Twitter 
SoundCloud
Facebook
Instagram
Tumblr
Pinterest
YouTube