In the new film Demolition, which opened this past week starring Jake Gyllenhaal and Naomi Watts, protagonist Davis Mitchell (Gyllenhaal) must rebuild his life as he grieves loss following the death of his wife.
We caught up with Gyllenhaal, director Jean-Marc Vallee and screenwriter Bryan Sipe last month in Austin, Texas at the South By Southwest Film Festival before the Demolition screening.
The process
 of becoming his character "was a bit of a mystery," Gyllenhaal said. "Jean-Marc kind of pulled me back from the kind of preparation that I normally do and said I just sort of want you to show up and we'll work there."
Because of the direction that had been given by Vallee, "it sort of stripped away any armor that I'm used to having when I'm trying to create a character," he said. "And I liked that. I liked being in a place where I didn't have as much preparation as I normally like to have. And then his process is the same way. He's constantly moving, he's constantly having a close is the middle and then constantly running out for a wide shot for something different. But he's just trying to find something honest in the shot in the visuals, but also in the behavior. And in that, you're kind of all working together. So in terms of creating a character, it was a bit of a whirlwind for me, unlike it ever has. I really enjoy new experiences because the process of filmmaking can seem very much the same and people live within structure and rules in filmmaking, and Jean-Marc breaks that."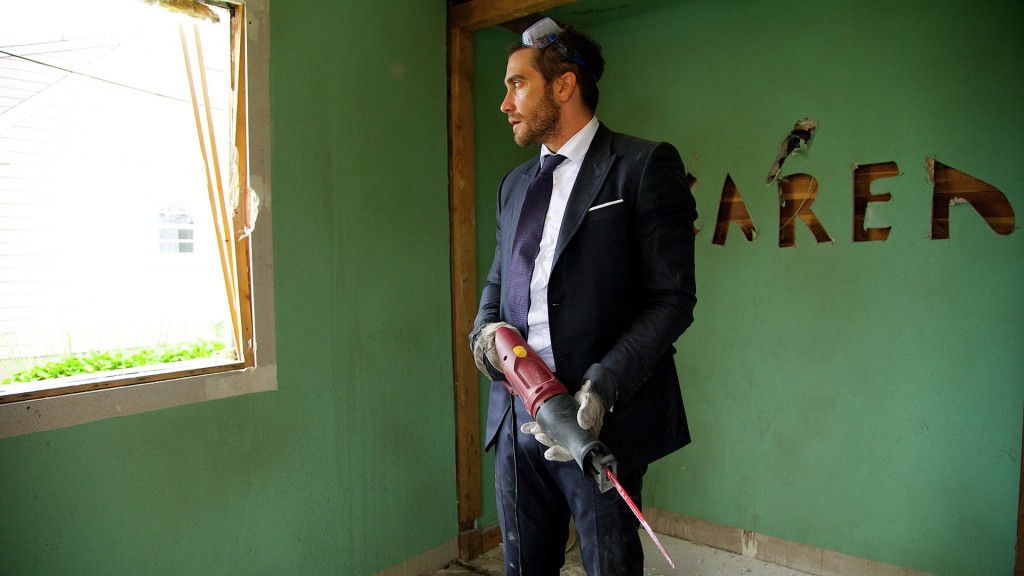 Variety
Gyllenhaal is best known for working in drama, but this film also has comedic elements. "
It was a complicated character because he's sort of apathetic throughout a lot of the movie," he said. "In terms of a comedic side to things, I actually, that is more me. I always try to find the comedy even when I'm doing something, even if it's really serious. I think pretty much everything's funny and everything's serious simultaneously. It just depends on how you see it."
For writer Bryan Sipe, the film's screenplay is so much more than words on a page and a character's journey of self-understanding. It's a story that reveals personal trauma and grief from his own life. "I would say that this is the first thing that I've written that I felt like I really found my voice," Sipe said. "There's a lot of stuff that you write as you're growing up as a writer I suppose. You try things out and we emulate people, and finally we step into something that we go 'Oh, that's me.' That's what I felt writing this one."
Talking about the film's success at recent premieres and screenings, Sipe said that the energy surrounding the film has been amazing. "I think that it's just started to catch up with me now, how amazing it is," he said. "It's, you know, something that you kind of step back and kind of forget that you're actually a part of it."
It's not too common to see a writer on the red carpet, but director Jean-Marc Vallee made it very clear to Sipe from the beginning that he would be a part of the film's journey all the way to the viewing screen. 
Furthermore, Vallee praised Sipe when discussing what makes the film so unique. "The script. Bryan. It's all about tonight," Vallee said. "Tonight we are celebrating Bryan's heart and soul. It's all about him. He had the balls and the courage to talk himself, to talk about grief, to talk about loss, to talk about how lost he felt and how he wanted to find himself back. How he wanted to find himself alive. How he wanted to be alive, how he felt like a kid. Just using this medium and try to make a film out of it. A beautiful, original piece of material that is so rare. Having this kind of script is a celebration of what cinema can do, and it's powerful. It can change your life."
Demolition is currently playing in theaters. Follow the film on Facebook and tweet using the hashtag #DemolitionMovie to join in the conversation and keep up with the latest news about the film.