Rain Varela
Staff Writer
Former Super Bowl-winning running back Derrick Ward had an opinion on the airing of the NFL draft list and he is not afraid to share it. Michael Sam, who became the first out gay man to be drafted on the list, expressed his joy by kissing his boyfriend on national TV.  Ward did not think this was appropriate, so like most celebrities these days, he took to Twitter. His tweet did not sit well with a lot of people, and he has received a lot of criticism on his account. But did he really rant about Michael Sam for being gay and expressing it with a kiss, or did he just find the kiss in itself inappropriate?

Courtesy of Derrick Ward/ Twitter
"I'm sorry but that Michael Sam is no bueno for doing that on national tv. I'm fine with it being a new day in age but for him to do that on..." This was his first tweet, this is the one that drew a lot of flak. But if you look carefully, the statement is incomplete, with twitter having a limit on its characters he actually divided his thought on two tweets.
"National tv is disgusting. Gay or not." He added in his next tweet. 
Ward later defended himself with another statement divided again into several tweets. "The funny thing is people are calling me this and that on here but if u look back to what I wrote I said what he did shouldn't had been-" then the follow up, " Allowed on tv for people to see. No matter if he's gay or not. I could careless. Shoving cake in your significant others face then deep."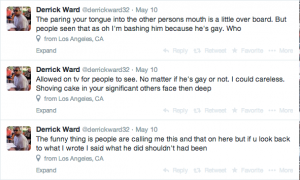 Courtesy of Derrick Ward/ Twitter
Check out Ward's Twitter for the complete list of tweets. So what do you think? Was Ward out of line, or does he have a point?
Keep Up With PopWrapped On The Web!