With almost every new drama seemingly set in a hospital, police station, or courtroom, it's refreshing to see Designated Survivor take up residence in the White House. But rather than feeling like ABC's other Washington DC-based drama, Scandal, Designated Survivor is closer to being a mashup of The West Wing and Homeland.
Created and written by David Guggenheim (Safe House, Stolen), Designated Survivor explores what happens when the entire cabinet is annihilated during a terrorist attack on Washington DC, causing a  low-level Cabinet member, Tom Kirkman (Kiefer Sutherland), to become the President of the United States.
Wait! What?
Kirkman is kept protected on to the other side of DC as the "designated survivor" in case the unthinkable were to happen and there were a terrorist attack during the State of the Union address. Well, the unthinkable happened, and the Secretary of Housing and Urban Development is now the new President.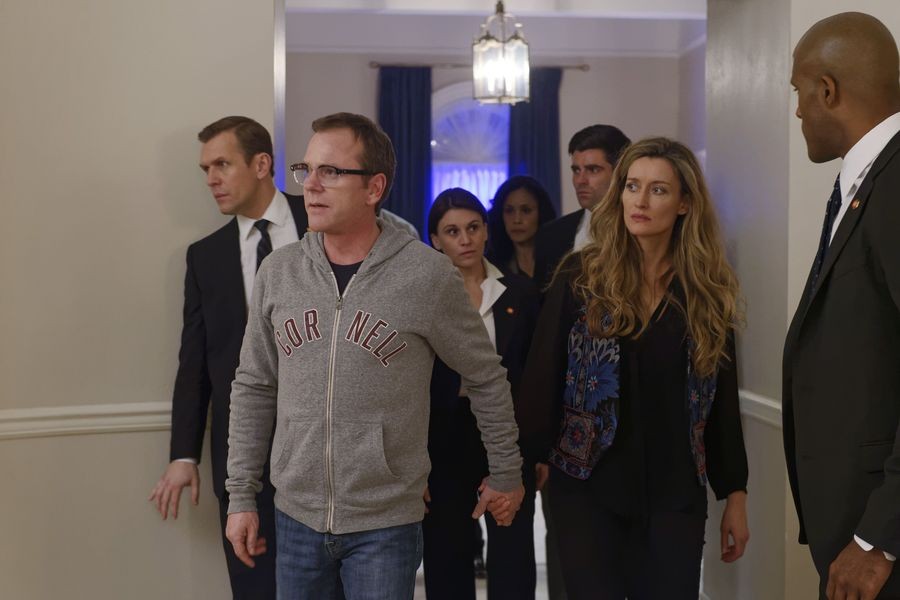 ABC
One of the show's taglines is: "From everyman to the most powerful man on Earth." Designated Survivor opens by introducing viewers to the everyman. While watching the State of the Union Address from a safe location, Kirkman's negotiating with his daughter to go to bed and playfully bantering with his wife Alex (Natascha McElhone). Soon after he convinces his daughter to go to bed, the feed for the State of the Union Address disappears, and it's evident that this everyman will soon be President.
The show uses flashbacks to show how this everyman, on the outs with the President, ended up with his job. The back story slows down the pacing a little but gives viewers a chance to catch their breath and get a glimpse into Kirkman's family life.
As Kirkman gets a crash course on being the President, FBI Agent Hannah Wells (Maggie Q) is searching for the culprit. When no one takes responsibility for the attack, she's worried that more attacks may follow. With Kirkman in a job he never dreamed of having, he is every bit the reluctant hero and facing doubters from every direction. In addition to finding his presidential voice, Kirkman needs to balance his family life with the demands of the Presidency following a devastating tragedy.
There is a lot of buzz surrounding Designated Survivor, and it's easy to see why. There are familiar faces on-screen, and it's a political thriller airing during an election year. Tune in to see if President Kirkman can lead the country in its darkest hours and what obstacles Agent Wells faces in her investigation.
Designated Survivor premieres on Wednesday, September 21st at 10pm on ABC.
Watch the trailer below and let us know if you're tuning in!