If you're part of the online YouTube community, or even just fans of current popular YouTubers, then it's no secret that Sam Pepper has sparked an online debate with his recent videos. Sam, who rose to YouTube stardom through his 'prank' videos, released his newest prank endeavour titled "Fake Hand Ass Pinch Prank" over the weekend. In the video, Sam went up to seemingly unsuspecting women and asked them for directions with a fake hand in his poket. His real hand would then reach around and pinch them inappropriately. The YouTube community were outraged by this display of blatant sexual harassment and the severity of this 'prank' was recognised by many. The hashtag "#ReportSamPepper" trended on Twitter for almost 15 hours before YouTube finally removed the video and shortly after they suspended Sam's whole channel. Pepper has even been banned from all major YouTube related events including VidCon, Playlist Live, and the
Fine Bros
 have banned him from appearing in any further YouTubers React videos. Here are a few tweets from fellow YouTubers: https://twitter.com/hankgreen/status/513776219574530048 https://twitter.com/thefinebros/status/513815660233637888 https://twitter.com/troyesivan/status/513835216972967937 https://twitter.com/troyesivan/status/513835579331461120 https://twitter.com/tyleroakley/status/513754061535858688 Laci Green, who is an out and proud feminist also posted her opinion on the video in an open letter to Sam and gained the signatures of popular YouTubers such as John Green, Louise Watson, Hannah Hart and Grace Helbig, who all supported her view. The letter in it's entirety
can be viewed here
. As Laci points out in her all-too-true letter, 'pranks' like this where women are violated or made to feel uncomfortable are becoming a trend on YouTube. Examples of this can be found on Andrew Hales' (LAHWF) channel and 
Vitaly Zdorovetskiy's (VitalyzdTV) channel. 
In these videos (yes, sadly, there's more than one) Andrew and Vitaly clearly make the women involved feel uncomfortable. It's obvious to me that these videos are played off as a prank and are not taken seriously by the majority of viewers. The comments section on these videos also include quite a terrifying display of hate towards feminists, another trend that's becoming far too popular on the internet nowadays. And this is not the first time Sam has violated or made women feel uncomfortable either. Considering the British YouTuber has 2.4 million subscribers, a lot of which are young girls, he's setting quite possibly the worst example of things that should be considered socially acceptable. Some of his other 'pranks' include licking stranger's feet and making out with girls he's just met. The signs were clearly already there for him to step beyond that and finally, it has happened. Here are a few screen grabs of his increasingly disturbing videos: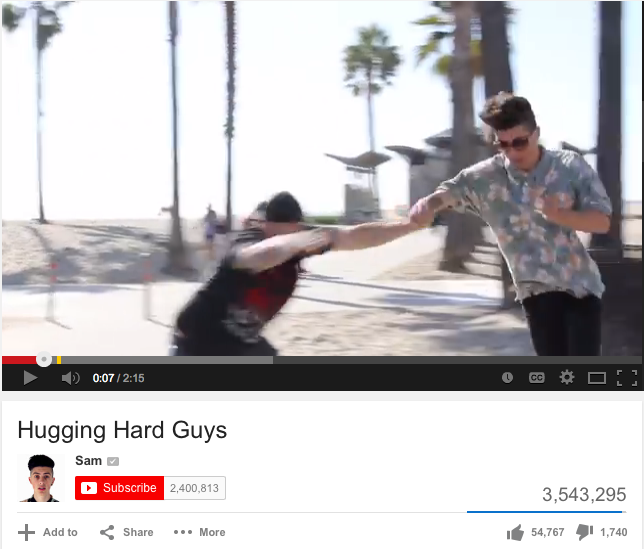 Courtesy of: New Media Rockstars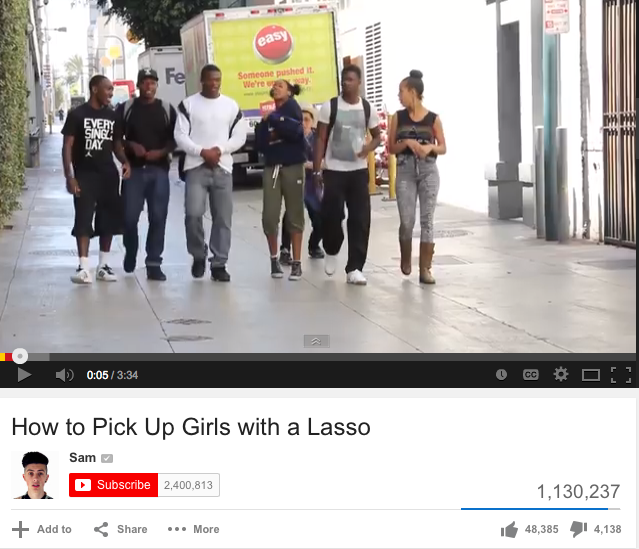 Courtesy of: New Media Rockstars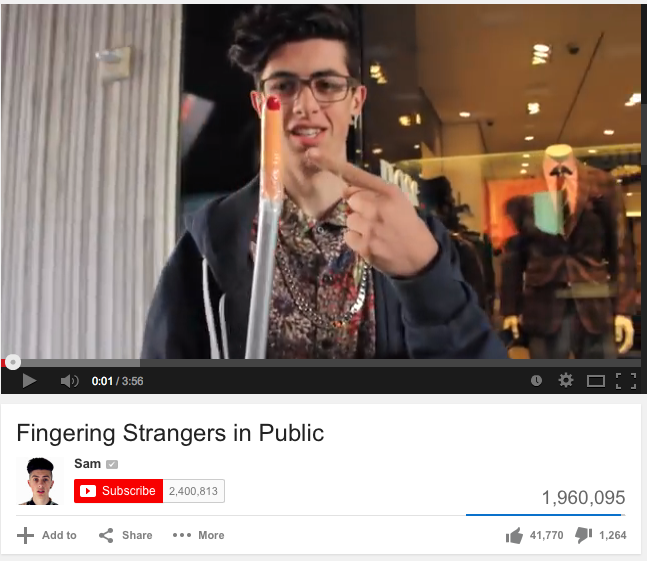 Courtesy of: New Media Rockstars
Hopefully, seeing these titles will not only alert the public, but alert other YouTubers that are making these types of videos that the community will no longer tolerate it. The reaction from YouTube and it's community toward creators who cross the line is escalating quickly, and as pranks grow more edgy, it will become an increasingly fine line. After acting as if nothing was wrong by tweeting normally about unimportant things for days, Sam finally spoke up about the video today. He released two more videos, making the total number of videos in this disturbing saga 3. In the second video, which was released today, he had a woman playing the role of the prankster and using her fake arm to grope men. In the third video, also released today, he talked about how the series of videos were part of a "big reveal" to raise awareness for sexual harassment. The video can be seen below: https://www.youtube.com/watch?v=Kf2beNubWj4 In my eyes, this all seems like Sam is trying to backtrack the outrage the first video caused. If these videos were supposedly in 3 parts, why didn't the first video have "part 1/3" in the title like the other two videos had? Why didn't Sam put even a hint that the original video shouldn't be taken seriously and that it was all staged in the description when he first uploaded it? To me, it seems like his management team panicked and released the final two videos to try and recover some of Sam's fans back. There is no evidence proving that this all was staged, or that it was all real and this is Sam trying to backtrack, but after the videos were released by Sam today, more people than not are agreeing with me that this was not at all staged. Again, Laci Green said what the majority were thinking when she posted these tweets after Sam's "big reveal": https://twitter.com/gogreen18/status/514422990252298240 https://twitter.com/gogreen18/status/514432472520462338 I, along with many others, find it increasingly disgusting that women's bodies are being violated by men; and not only are these violations of basic human rights being posted online for all to see, they are being passed off as humorous to the public as well as being profitable for the uploader. Whether Sam was doing this to raise awareness or not, people just on my Twitter feed alone claim that Sam's first video was "not that bad" before his "big reveal" today. It saddens and infuriates me that we live in a world where this is socially acceptable. Despite the amazing response from YouTube and its community toward Sam Pepper's video, I think it's time that ALL videos like this were taken seriously, reported and taken down.
Keep Up With PopWrapped On The Web!

Twitter  SoundCloud Facebook Instagram Tumblr Pinterest YouTube