When Arrow returns to TV this fall, fans can expect to see David Ramsey's Diggle in full costume and boasting a new code name. At the Television Critics Association Press Tour, Arrow producer Wendy Mericle spoke of big plans for the character, ones that include a new name. 
I can't tell you want the code name is, but he's gonna have a fun, cool code name. He'll start to embrace a little bit more of that dual identity conundrum that Oliver has been grappling with for three years now.
It appears that as Diggle continues his journey to becoming a full-fledged superhero he'll make a number of changes to protect his identity. A new costume was teased at San Diego Comic Con, with Ramsey confirming that his character will wear a specialized helmet and leather jacket/costume. The source of Diggle's new costume, as well as his new name, remains a mystery. Given the reference the name being "fun" and "cool", and the high tech appearance of the helmet, it's a safe bet to assume that both are gifts from Team Arrow's friends at S.T.A.R. Labs.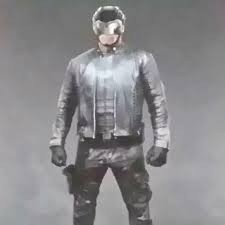 Courtesy of comicbook.com
What do you think of Diggle's increasingly large role in Team Arrow? What do you think his code name will be? Let us know in the comments!
Arrow returns to The CW for it's fourth season on October 7 at 8:00 p.m.