The "Home of Dinosaurs" has that name for a reason.
That's the nickname for the city of Heyuan in the Guangdong Province of China, due to the over 17,000 fragments of fossilized dinosaur eggs that have been unearthed in the region since 1996.
However, the most recent discovery stands out even against that backdrop.
Chinese state media has reported that during utility work being done to upgrade a road, a cluster of forty-three fossilized dinosaur eggs was excavated. The most remarkable aspect is that nineteen of these eggs were found completely intact.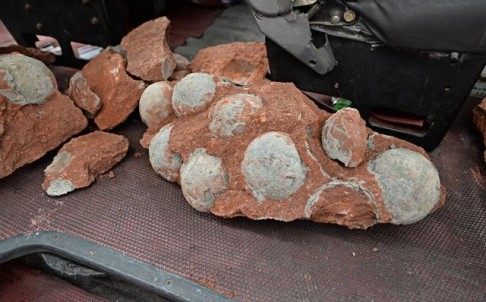 South China Morning Post
The largest of the eggs is over 13 cm (or over 5 inches) in diameter, and represent the first discovery of this kind to be made in the central area of the city. Du Yanli, the director of the city's Dinosaur Museum, was quoted in the report as saying it is "possible that many other dinosaur remains would be found in sandstone beds around the city and that construction projects should be halted if fossils were unearthed."