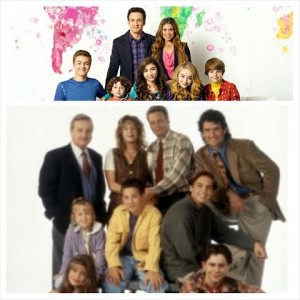 Dani Strehle
Senior Manager
Boy Meets World, 
for most '90s kids, played a pivotal role in our adolescence. We grew up with the Matthews crew and their motley band of friends. We ached with them, laughed with them, and evolved with them. We were there through the heartbreaking storylines about Shawn's family. We witnessed Eric's dopey antics. And, more importantly, we were there to see Cory and Topanga fall in love. Tonight, Disney premiered 
Girl Meets World; 
a second coming of the series that follows a now-married Cory and Topanga (sqqquuueeeee!!!!!) and their children. Their daughter Riley is the titular character of the series, and it's through her voice that this new adaptation of the story will be told. I thought the premier was solid, but lacking. The acting was way overblown (which, as the mother of a child obsessed with 
Jessie, Dog With a Blog, 
and
Shake It Up, 
I'm well-versed in) and the scenarios and story seemed a bit forced. Riley's best friend Maya is a clear homage to Shawn; filling the role of rebellious best friend to well-behaved teenager with far less zeal than Ryder Strong. Her rebellion seems less genuine; but again, it's only the first episode. I believe that as we get to know her, she will grow to be more likable. But underneath the flaws and the blatant anxiety you can feel coming from the actors and production, they are terrified of sullying a beloved franchise; the magic is still there. The potential for greatness is bursting at the seams; and I believe that it can, and will, find its footing. It just needs a little room to grow. The rest of the series promises to reunite us with some original cast members. Rider Strong who played Cory's bad-boy best friend Shawn Hunter, gave a cryptic little snippet to
Hollywoodlife.com
about whether we would see the brothers-from-another-mother together once more:
Based on the response [to the spin-off], I feel like we owe it to the fans to finish Shawn's story line, but I don't know what that means yet. They shot the pilot, and I have no idea what's happening after that. I'm assuming they'll do at least six episodes, and I think it'd be good to show up and say hi.
When asked what he thought could be expected of his character, Strong said:
The problem is, I've already talked to [creator] Michael Jacobs about where Shawn is. So I have the actual answer in my head. I don't want to give any of that away, but I think Shawn's doing OK. But he's got to be in some kind of trouble, and he has to drag Cory into it. I feel like that has to happen; I can't be doing that well. By the end of the episode, or couple of episodes, that I do, I've got to be blowing up mailboxes.
Cory's little sister Morgan, played by Lily Nicksay; Jack Hunter (Matthew Lawrence); Angela, (Trina McGee); and Rachel (Maitland Ward) have all expressed interest in reprising their roles as well. Cory's parents are also set to make an
appearance
. Though all one really needs to do is check out the cast on
IMDb
and see who has credits. But of all the things that happened in the premier, the best scene was undoubtedly the very last of the episode. After Cory gifts his daughter with a metro pass and tells her to go explore the world, his eye catches on a "Stay In School" poster with the face of Mr. Feeny on it. And next to said poster is the wise, crotchety teacher in the flesh (except not really because he was a projection). Is this how they will incorporate him into the show? I'm not sure how to feel about it, except that it made me endlessly happy to see his face. So far the only returning characters were Cory & Topanga, the quick shot of Feeny, and the nerdy, annoying  Minkus with a quick cameo at the end. All-in-all, the series premier of 
Girl Meets World 
was a good start to what I hope will be something I look forward to watching every week with my daughter. She enjoyed the premier tonight and there was something so special about sharing something that meant so much to me with her. I foresee many nights of bonding in our future.
Keep Up With PopWrapped On The Web!