Syfy premiered 3 Headed Shark Attack on July 20th as a part of Sharknado Week, the channel's second annual shark movie week. 
This film stars Karrueche Tran in her acting debut as Maggie. She is a girl on the first day of a new job that goes horribly wrong. Karrueche is kind of great in this and she's going to be one to watch out for, folks. The film also stars Sharknado alum Jaason Simmons as Dr. Ted Nelson, who is aboard Persephone, the research lab devoted to how pollution affects the ocean.  Simmons plays a different type of guy this time around but still has some great cheeky lines to throw around. He is joined on the project by Professor Laura Thomas (Jena Sims) who is one brave lady! Viewers also get the joy of roles played by Danny Trejo (who uses a machete at some point) and Rob Van Dam.
The film begins with a beach party which quickly goes terribly wrong as the shark with 3 heads appears and takes out all but one. The pollution story line is important as that is what attracts the shark to the area. This shark gobbles up some garbage in the water. After the opening sequence, we're introduced to our main characters who defy the odds against a giant 3 headed shark. I won't say anymore because I don't want to spoil it; this film is fun, campy, and full of awesome shark-related death scenes.  Catch it when it airs again on Sunday!
I got the lucky chance to ask 3 Headed Shark Attack star, Jaason Simmons some questions about the film.  He is so great to talk to because he's very nice! Check out what we discussed, including some spoilers, beware: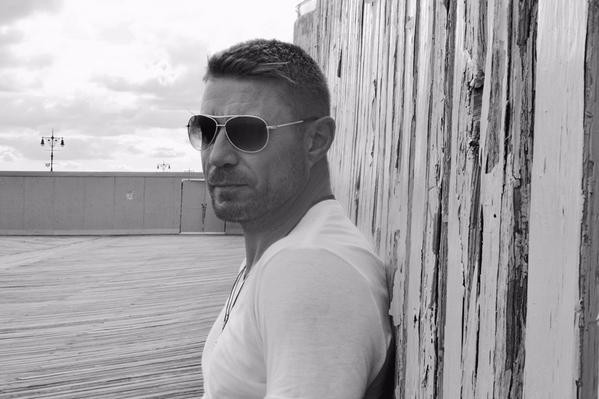 Courtesy of Wikipedia
Which scene was your favorite to film?  
Ted's Death Scene. I spoke to Chris on how I saw it happening and he made it happen.
Did you intend to pay homage to Jaws with your Quint like death scene?
Not to Jaws but to an Alfred Hitchcock movie.
Did Sharknado make you want to do more of these films?
It (Sharknado) made me want to play more that's for sure. Sharks and Australians seem to go hand in hand. The first time I was in the water with a shark was 20 years ago on a Beach show.
Which character is better to have at your side during a shark event: Dr Ted Nelson or Baz?
Well, Baz doesn't wear glasses so once I took them off I couldn't see well. They are my own glasses. Swimming in freezing water half blind is definitely an adventure, but maybe not the best with a baseball bat.
Are there a lot of funny outtakes from filming?
I cannot wait to see the blooper reel! There should be some hilarious outtakes. I tend to laugh and be silly a lot. This movie was no different.
I'm producing a couple of projects and fly to Australia later in the week to start shooting a non-shark movie, but man they are fun! I'll be an ambassador at an environmental conference  for the oceans in Australia later this week to help promote a documentary called A Drop in the Ocean. When I'm not swimming with sharks, I'm helping their environment and ours.
I have to give a huge thank you to Jaason Simmons for talking with me about this fun film!  He was even nice enough to tease that a project he's producing could also be quite sharky!