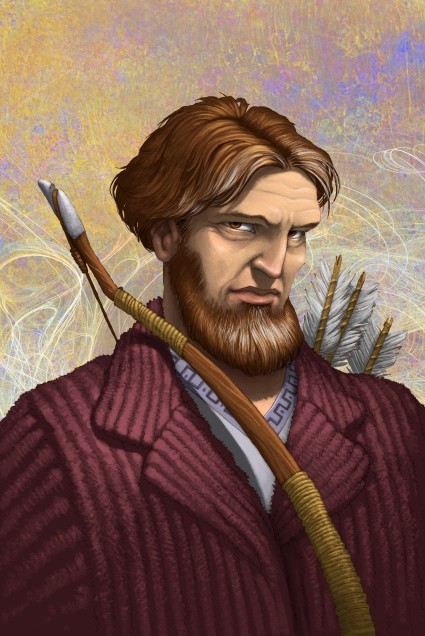 Disney-Hyperion
Why is Chiron my favorite character in the Percy Jackson series?  The initial answer is so easy and the reason I joined the fandom.
Buffy's Anthony Head played him in the second film which was my introduction to the books.  Now, I know a lot of people hate the film but I loved it and it was my love of that movie that made me pick up The Lightning Thief to begin with.  I even (I'm getting really nerdy here) wrote a Percy Jackson fanfic.
But why Chiron?  Why out of all the characters have I chosen the centaur after the obvious reason wore off and I cracked open the books?  He's a mentor which is something I'm drawn to.  In everything, I choose the mentor character.  In Ranger's Apprentice I loved Halt, in Buffy I chose Giles, Jeremy in Bitten and in Boy Meets World it was Feeny so why should this be any different?  
But Chiron is more than a mentor for Percy, he trained almost all of the greats throughout Greek Mythology:  Hercules, Achilles (I love that Brad Pitt movie), Dionysus, Perseus and Ajax.  How could you not fall for the character that shaped history?
In mythology, Chiron died at Hercules' hand but Riordan explained that away and stated that Zeus gave Chiron his Immortality back to live as long as he was needed to teach heroes.  Also, in mythology Chiron married and had three daughters.  I do feel he was missing that in the books, someone to care about besides the campers but that family would have been a part of his old life.
Chiron possesses all the greatest characteristics a partner could ask for.  He's intelligent, kind, good with medicine and an expert at archery.  Though, I wouldn't be lying if I said I didn't wish he had a little of that lusty wildness like his centaur brothers and sisters.
Riordan did an amazing job bringing this character from the myths to life in his series.  I only wish Chiron had a bigger part in the series that followed the initial Percy Jackson books.
Who's your favorite character in the Percy Jackson universe and why?  Sound off in the comments!
***As participants of the Percy Pack Anniversary Campaign, PopWrapped will receive books, merchandise and prizing from Disney-Hyperion.***