The second the curtains went up and the lights went out in Studio 54, I knew that the play "Therese Raquin" would be an exceptional one. Keira Knightley is not only making her Broadway debut in the play, she's also in the lead role, as Therese Raquin herself. Based off the novel Therese Raquin, written by Emile Zola in 1867, this Broadway adaptation is directed by Evan Cabnet and written by Helen Edmundson. Alongsie Keira Knightley, theater-goers see Gabriel Ebert, Judith Light, Matt Ryan, David Patrick Kelly, Mary Wiseman, and Jeff Still grace the stage.
"Therese Raquin"  is the story of a one young woman falling into a loveless marriage with someone close to her, but soon finding someone else to take the pain away.This begins a lust-filled affair with unknown consequences. Throughout the performance, we saw Therese conquer her feelings for another, and what would happen if anyone discovers this affair. This is a play full of twists and turns, with a deadly ending.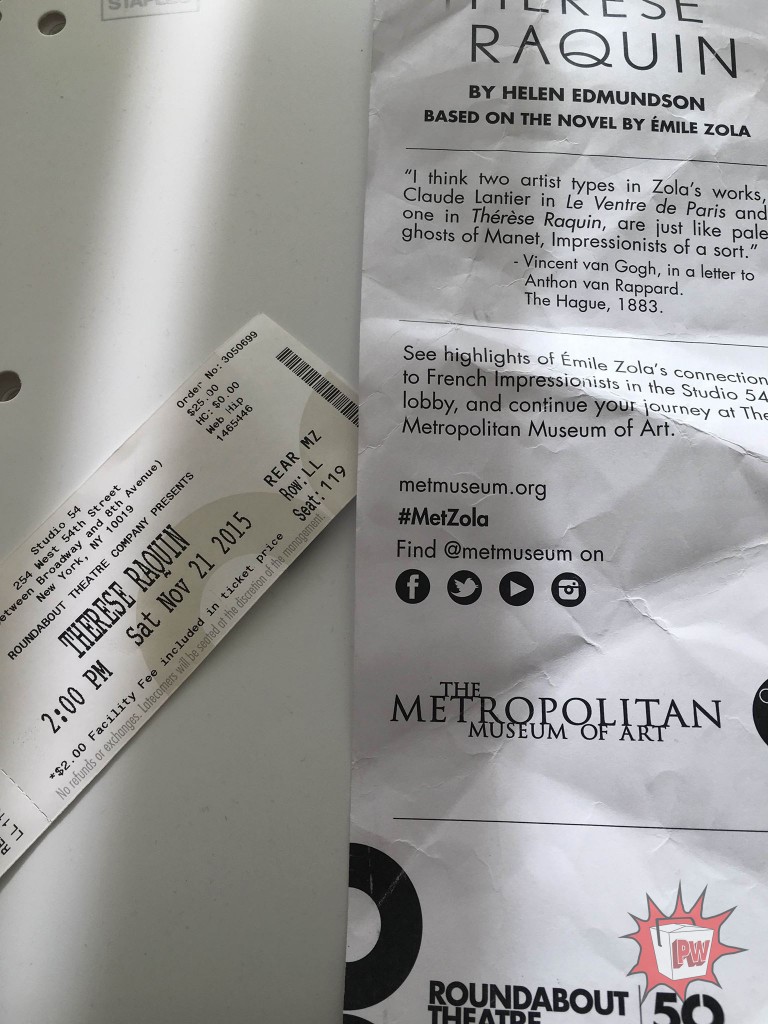 Property of Robin Klein/PopWrapped
Even though it is Knightley's first time on the Broadway stage, she has transitioned into theatre pretty quickly. The role of Therese Raquin is similar to many parts she has had in films: the woman is stuck in a bad place, but finds another person for comfort. Therese is a weak woman who is controlled by her lust for another, which is portrayed amazingly by Knightley. Gabriel Ebert, who plays Camille, takes this role to a whole new level as a sick man who wants to control everything. I even got scared at times seeing him try to hang all over Therese.  I commend the make-up team for doing such an amazing job making Camille look very sick throughout the whole play. On top of all that, the other actors played their roles so well that I got goosebumps, and had to pay extra attention to hints about what could come next. 
The overall look of the production is what makes this play stand out among others. The set design is amazing throughout this whole two and a half hour production. The true stars of this play are the production designers. One aspect of the set that makes this an unforgettable play is the real water on stage like a pool. I have never seen any Broadway or off-Broadway production use an actual pool of water on the stage in their show and that piece of setting makes this Broadway show different from any other. There were important scenes based around the river and became a significant element of the staging, which was done beautifully. Overall, this play is a masterpiece good enough to win an award. 
With the great set design, costumes, and actors, I believe everyone should take a chance and make a stop at the Roundabout Theatre Company to see Keira Knightley star in "Therese Raquin."