As we inch closer and closer to the holiday season it can only mean one thing: the Christmas episode of Doctor Who is just around the corner! In a little over a month, Whovians everywhere will be setting their new unwrapped toys aside to enjoy this very special tradition. To help amp up the excitement, the  BBC has released a complete episode synopsis and the episode's first image. Be warned, there are spoilers (sweetie) below.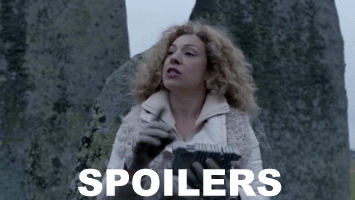 Courtesy of badbooksgoodtimes.wordpress.com
As fans are recovering from companion Clara Oswald's (Jenna Coleman) heartbreaking departure, the BBC seems to be trying to help by giving us a few hints into 2015's Doctor Who Christmas special. They have released a complete synopsis:
It's Christmas Day on a remote human colony and the Doctor is hiding from Christmas Carols and Comedy Antlers. But when a crashed spaceship calls upon the Doctor for help, he finds himself recruited into River Song's [Alex Kingston] squad and hurled into a fast and frantic chase across the galaxy.

King Hydroflax is furious, and his giant Robot bodyguard is out-of-control and coming for them all! Will Nardole survive? And when will River Song work out who the Doctor is?

All will be revealed on a starliner full of galactic super-villains and a destination the Doctor has been avoiding for a very long time.
BBC has also released a new image from the episode, showing River and the Doctor looking up in fear: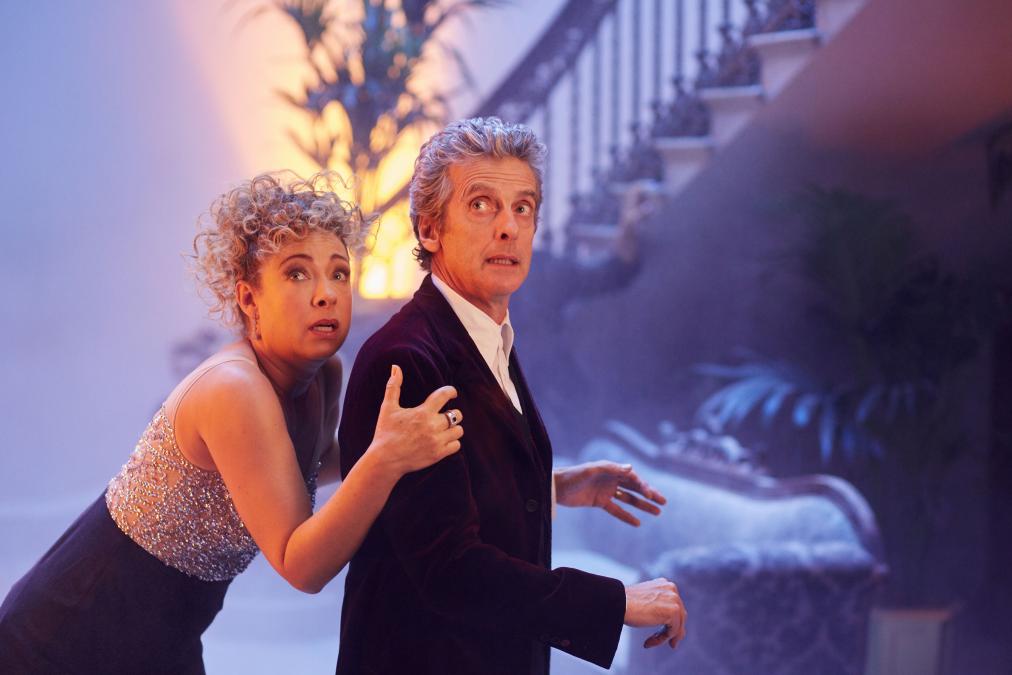 Courtesy of BBC
King Hydroflax will be played by guest star Greg Davies, a British actor and comedian famous for roles in Cuckoo and The Inbetweeners. Matt Lucas, from Little Britain and Alice in Wonderland, is set to play Nardole. Notably absent from the episode description and the casting details released is Jenna Coleman's Clara. It also seems that a new companion won't be introduced either. 
Based off the synopsis, it appears that this will be one of the few times when River won't know who the Doctor is or what his future holds. Showrunner Steven Moffatt did confirm that in River's timeline, the upcoming Christmas special will take place immediately after "The Angels Take Manhattan". This could set up an interesting mood for the otherwise "cheerful, festive-themed 'romp' through space and time" promised by Moffatt. After all, "Angels" is the last time the Doctor lost anyone close to him - will River's presence remind him of that loss while he is still mourning Clara? 
Give us your wild speculation in the comments below!