In 1971, Dolly Parton wrote the song "Coat Of Many Colors", which was about a particular hardship she went through as a child growing up in the Great Smoky Mountains. Years later, she wrote about the painful memory in a children's book of the same name, one that she gives out as a book in her literacy program The Imagination Library. Earlier this year, Dolly signed a seven picture deal with NBC that will take her songs and turn them into weekly movies. "The Coat of Many Colors" was the first song selected to be featured in this lineup, and get ready, because NBC will air Dolly Parton's Coat Of Many Colors as a holiday film on Dec. 10th. It's not too far away!
The synopsis, while concise, is a perfect reflection of what's to come:
Based on the inspiring true story of living legend Dolly Parton's remarkable upbringing, this once-in-a-lifetime movie special takes us inside the tight-knit Parton family as they struggle to overcome devastating tragedy and discover the healing power of love, faith and a raggedy patchwork coat that helped make Dolly who she is today. Over the years, many have attempted to bring this story to life, and now, finally, fans across America can experience the heartwarming tale of a courageous nine-year-old girl from Tennessee and the loving family that taught her the power of inner strength.
We here at PopWrapped had Dolly Parton herself take a time-out from her busy schedule to give us a snippet of excitement about the project:
I have often said that "Coat Of Many Colors" is my favorite of all the songs I've written. I've always seen it as a philosophy, a real glimpse into my life and childhood. Now, thanks to Warner brothers, NBC, and my partner Sam Haskell, it's a movie too! This December 10th, the story of my little coat will air on NBC, and I hope that folks will enjoy it as much I have. It has truly been a labor of love. I could not be more proud of the cast and the crew, and feel blessed to call all of them honorary members of the Parton clan... tune in and bring a box of tissues, you're gonna need it.
Working alongside Dolly is her sister Stella Parton. We also got to speak with Stella, and she gushed to us about her sister's new adventure, "I was honored to not only portray Corla Bass in the movie, but touched that my sister asked me to be our family advisor on the set during the filming. The cast, crew and everyone involved did an amazing job telling our family story. I hope everyone will receive the message of love that my sister Dolly wrote about so masterfully in her song; 'Coat Of Many Colors'." She, alongside Dolly, adds that it's a tearjerker, so be sure to have a couple boxes of Kleenex nearby! That's two Parton's promising a whole lot of feelings - are you guys prepared?!
Executive Producer Sam Haskell also took a moment to share some details with us, saying "Dolly Parton's Coat Of Many Colors is a beautifully directed movie with performances that touch the heart. Our audience will witness a true story from the childhood of an American Icon. Through Dolly Parton, we see the dreams of a child that became a reality, and ultimately inspired generations to believe that anything is possible!"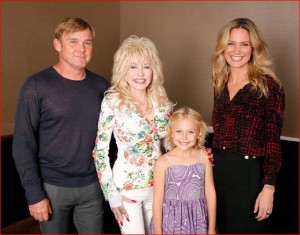 Courtesy of NBC
First up on Dolly's media promotion tour is an appearance on The Talk which will be on CBS, this Thursday Dec. 3rd, After that,  you can catch her on Hallmark's Home and Family on Monday, Dec. 7th. She will also appear on NBC's The Voice on Dec. 7th and 8th, something we are definitely looking forward to. Continue to follow Dolly on all of her latest adventures, but only after you check out the Coat Of Many Colors: