Dolly Parton visited NYC today (May 11) with a big announcement with NBC!
Her first movie of the week will be Coat Of Many Colors, a part of a 7-song/picture deal. On hand for the big announcement was her longtime manager Danny Nozell from CTK Management in Nashville, her developing partner Sam Haskell, and NBC Entertainment's Bob Greenblatt.
Based on the inspiring true story of living legend Dolly Parton's remarkable upbringing, this once-in-a-lifetime movie special takes us inside the tight-knit Parton family as they struggle to overcome devastating tragedy and discover the healing power of love, faith, and a raggedy patchwork coat that helped make Dolly who she is today. Over the years, many have attempted to bring this story to life, and now, finally, fans across America can experience the heartwarming tale of a courageous nine-year-old girl from Tennessee and the loving family that taught her the power of inner strength.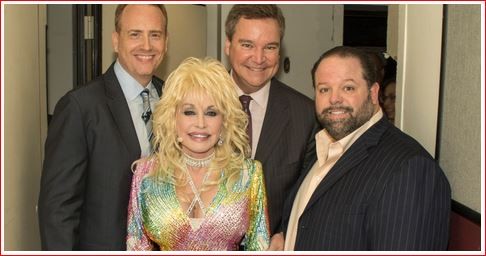 Credit: Webster Public Relations
More on
 Coat Of Many Colors
:
"An NBC movie event:
Studio
Warner Bros. Television, Magnolia Hill Entertainment, DP Productions
Writer
Pamela K. Long ("Christy")
Executive Producers
Read the official release from her team at Webster Public Relations HERE!
Her public relations manager, Kirt Webster, told us, "This will be huge for Dolly." I think her fans will agree.
Also in Dolly Parton news! TheBOOT.com has nominated her for
"the Living Legend Award in The Boot's 2015 Golden Boot Awards, our yearly fan-voted digital awards. Now through June 8 at noon ET, fans can vote in the polls on our website to determine the winners of each category. Once the polls are closed, we'll be announcing the winners on the site. She is a living legend."
Give Dolly your votes here, and share with the hashtag #GoldenBootAwards.
Keep up with all things Dolly Parton on her new website.