Donald Glover has been cast in a yet unknown role in the upcoming Spider-Man: Homecoming along with Tom Holland and directed by Jon Watts. The film also stars Marisa Tomei as Aunt May and Michael Keaton as The Vulture. Holland will have the support of Parker's friends played by Zendaya, Kenneth Choi, Michael Barbieri, and Tony Revolori.
Fans might remember back in 2010 when Glover inadvertently started a trend on Twitter and other social media calling for him to play Peter Parker. Donald4Spiderman went viral and many were demanding the next Spidey be black. The part would eventually go to Andrew Garfield, but Glover did join the Spider-Man universe in 2015 when he voiced Miles Morales a.k.a. Ultimate Spider-Man in the Ultimate Spider-Man TV series. The whole Donald4Spiderman campaign became a joke in Glover's Weirdo special for Comedy Central. Glover talks about how he refrained from replying to stories on the topic, except for one comment. A fan comparing the scenario of a black Spider-Man to casting Michael Cera as Shaft compelled Glover to respond. Donald Glover: Weirdo should be available on Netflix for your enjoyment.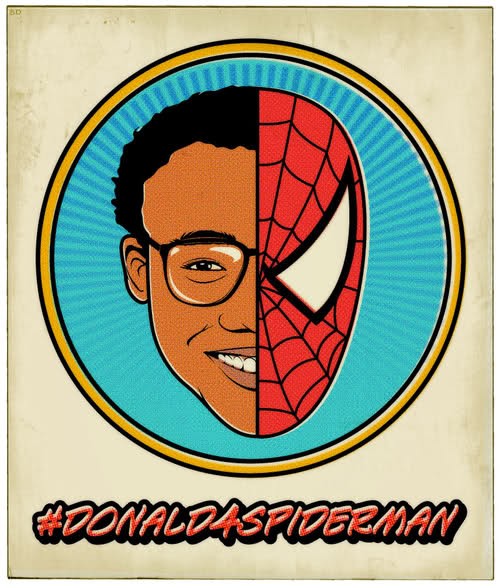 Facebook: Donald4Spiderman
The question remains for now, who will Donald Glover play in Spider-Man: Homecoming? The newest Peter Parker has been cast much younger, so I don't believe Glover will play Miles Morales. Glover is 12 years older than Tom Holland and Morales is younger than Parker. Since Morales is inspired by the original Spider-Man, reversing the age difference doesn't work well. My guess is that Glover will be in a smaller role like a teacher or scientist. Perhaps he will play a teacher who has some influence on Parker at school. Or something more similar to Glover's role in The Martian, where he played an eccentric NASA employee who helps rescue Mark Watney. Having Glover as a scientist or technician at Oscorp would be a nice little Easter egg for fans and not out of the realm of possibilities. What role do you think Donald Glover will fill? Who do you want him to play? Let us know on Twitter and in the comments!