Recently, Coach Shannon Beiste came out as a transgender man to Sam and Sue. Her character on 
Glee 
thus far has been a tomboy seemingly at ease with who she is. Now, as she hands the football team over to a young Sam Evans, she is finally going to be comfortable in her own skin. When Dot-Marie Jones first heard about Beiste's big reveal, she was hesitant about moving forward with the show. But we are happy to report it was not for the reasons you might think! "I just didn't want to let down the girls who are straight and tomboys that my character represented the last four seasons,' " she stated in an interview with People. "But I got the script and I was, like, 'Oh my God. This is amazing.' " While we won't be able to see him in action until the official episode airs on February 13th,
thanks to People
, we have an exclusive photo of Coach Beiste's new look!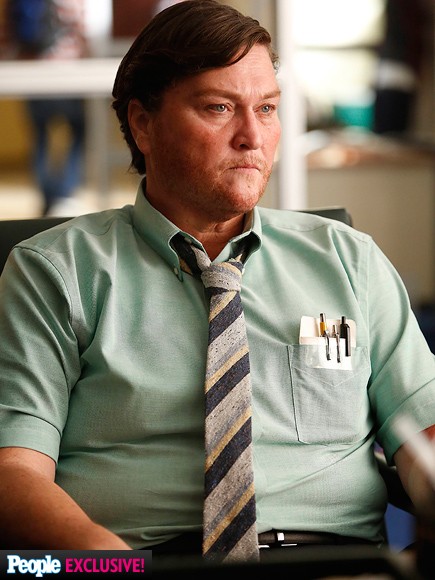 Courtesy of people.com
With shows such as 
Orange is the New Black 
and 
Transparent
already paving the way for actors and actresses like Laverne Cox and Alexandra Billings, Jones says she is honored to be joining their number. Her character will be the first series regular to identify as transgender and make the transition on broadcast television. "I had thousands of Tweets from people. I was crying," Jones said after the news was officially announced. "Members of the transgender community were saying, 'I never thought I'd see myself on TV. You have no idea what this means to me. Now, maybe people will get it.' " "People walk by me and I forget that I'm in [the hair and makeup to make me look like a man]," she said, crediting her hair and make-up team with her amazing transition. "I'll say, 'Hey.' And they'll say, 'Hi.' And then a few second later, they'll run back, 'Oh my God! Dot!' It's awesome." What do you think of Jones' transformation? For more information about the transgender community, visit the
Human Rights Campaign
,
GLAAD
, and
PFLAG
. Don't miss the sixth and final season of 
Glee
, Fridays at 9/8c.
Keep Up With PopWrapped On The Web!