Content Editor
  "London Pt. 1" & "London Pt. 2" Recap:
Oh, how I have missed you, Pawnee. Luckily for me, as of last Thursday everyone's favorite deputy director of the parks and recreation department slash city councilwoman is back! "London: Part 1" and "London: Part 2," the two halves of last week's hour-long episode, made up my favorite premiere of the series. It included a pregnancy, a proposal, and a wedding – all before the opening credits even rolled! Take that, 
Modern Family
 and 
Glee
! When we left off last season Andy had just told Ron about the pregnancy test he found in Ron's cabin, and how he hadn't been able to figure out whose it was. Just then, Ron's lady friend Diane burst into Ron's office, saying she needed to speak with him. Cut to Andy making a typical "Andy" face. The show picks up exactly then. Ron asks Andy to leave so he and Diane can speak, and suddenly everything is happening! Diane tells Ron she's pregnant, Ron tells Diane he carved a canoe to propose to her in, Ron actually proposes right then and there, Diane says, "yes," and they get married. You may think I missed a few steps between the proposal and the marriage, but I did not. Diane's one request is that they don't have a big wedding, as they've both been married before, and Ron agrees wholeheartedly. In fact, he says, he would go up to the fourth floor to marry her right then. And so they do. On their way they run into Leslie and April, who have just come from traipsing through a swamp, and tell them the good news. It shocks Leslie into temporary paralysis. April is on the ball, though, and asks Ron if she can be his best man. He says yes. Once Leslie unfreezes the four of them head up to the fourth floor which is where Diane asks Leslie if she would be Diane's matron of honor. Of course, Leslie revs up to give an impromptu but impassioned speech about how much it means to her, but Ron cuts it short. April finds a justice of the peace, Leslie finds a bunch of highlighters as a stand-in for Diane's bouquet of flowers, and it's on. Boom. Ron and Diane are married. April recorded the whole thing. Leslie is crying. And now we can get to the opening credits. And by the way, of course Ron would marry Xena (Diane is played by Lucy Lawless). As it turns out Pawnee still hates Leslie Knope, and Kathryn Pinewood is still spearheading the campaign to get Leslie recalled from office. Leslie is in the middle of her forty-step plan to win back the hearts of Pawnee – step 26, to be exact. This step, called "no problem to small," has Leslie personally solving any and all problems that citizens come through her door with, no matter how petty and small they are. However, it doesn't seem to be working. Pawnee is still anti-Knope, and Leslie thinks she needs something big and exciting to get through to the citizens of the town. Unfortunately, she's at a loss. Fortunately though, April has a solution. It turns out April had submitted Leslie's name for an award given to international women in local government, and Leslie won!  The best part is that the awards ceremony takes place in London in a month! Everyone is going to London! Yay! "Everyone" does not, however, include Ann or Chris, who it turns out are doing really great.  Really really great, in fact – Ann's pregnant! Yay for them! The bulk of their portion of the episode consists of Chris and Ann going around and telling people that they're pregnant. Somehow no one gives them the reaction they were hoping for.  Tom found out when he accidentally walked in on their ultrasound appointment, where he was confronting Dr. Saperstein, aka Ann's doctor, aka Jean Ralphio and Mona Lisa's father. Donna apparently has the eyes of a hawk; because she already knew (apparently Ann's decaf coffee and empire waist dress gave it away). They told Jerry, whom I'm pretty sure has never said so much at one time ever in the show's history. And Jerry's reaction is absolutely the creepiest thing I have ever seen. Case in point: He talks about how soon Ann's milk will come in (motioning to his own man boobs), before taking a long swig from his glass of milk. I don't think I've ever been that appalled by an NBC show, and I watched 
Hannibal
!  Anyway, Chris and Ann even went to the fourth floor to tell Ethel Beavers, who literally could not have cared less. Finally they get the reaction they want in Leslie, who hugs them and tells them that it's a great day for humanity and the beginning of a new and better species of humans. I have to say, I will miss these two when Rashida Jones and Rob Lowe leave
Parks & Recreation
. I won't miss those characters being together, because together they're kind of boring, but they have their great moments, especially Chris. Oh, how I'll miss Chris Traeger…. Once in London, aside from attending the awards ceremony and sightseeing, Ben and Andy are tasked with pitching their nonprofit organization to a wealthy Brit named Lord Covington. It becomes abundantly clear that this guy is the complete opposite of what Ben had been expecting. In fact, Lord Covington is basically Andy. They play with remote controlled helicopters (not including Ben, of course), they go out for ice cream, and then they get down to business. Finally, Lord Covington lets it be known that he literally has no idea what he's doing. He wants to use his money for a good cause, but he honestly can't tell which projects he has been pitched are good and which are bad. Apparently he and Andy really bonded, because all Andy has to do is tell Lord Covington that their program is good, and the lord agrees to fund it! Yay! But there is a catch – Lord Covington will only do it if Andy stays in London for three months to help him figure out how to get the program up and running, because he has no idea what he's doing. April encourages he husband to take Lord Covington up on it, and in one of her rare sweet moments, the ones she saves for Andy, April tells him that she's proud, and that they'll be fine with the distance. As we, the viewers, probably already know, three months in London is actually exactly what Chris Pratt signed on for. Pratt, who plays Andy, will star in Marvel's upcoming film 
Guardians of the Galaxy
, which began filming in London around the time of San Diego Comic Con. Pratt underwent a dramatic (not to mention swoon-worthy) transformation to take on the role of Star Lord for the film. Pratt's new bod did not go unacknowledged by the writers of the show, either. Ben makes a point of asking Andy how he managed to lose fifty pounds in a month (the length of time between last season's finale and the trip to London). Andy's response? He just quit drinking beer. That's it. Well played, writers. Well played. Ron, despite having said he would never set foot in Europe, has also gone to London. It seems Diane came down with some horrendous morning sickness but insisted Ron go and take pictures for her. He tackles the task in true Ron Swanson style: insisting that a sidewalk salesman accept his American dollar, "the most wonderful piece of paper in the world." The guy refuses, and Ron congratulates him on his royal overlords being "a frail old woman and a tiny baby."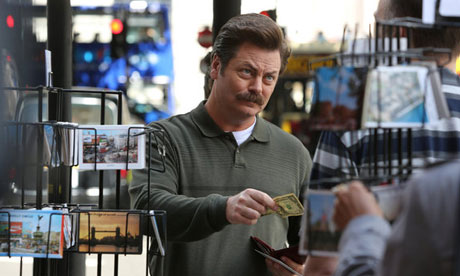 Photo Courtesy of NBC
After hearing that Pawnee is up in arms that she's in London instead of at home, Leslie is understandably unhappy. It's not made any easier when she meets fellow award winner, Ulee Danssen.
Photo Courtesy of NBC
Ulee, played by the always stunning Heidi Klum, hails from the small Danish town of Silkeborg. She loves her town, and they love her, so much, in fact, that they built a statuette of her out of goat cheese. Once, for her birthday, the townspeople apparently trained a reindeer to dance for her. No such cheese statue or dancing reindeer for Leslie. For the first time, it looks like Leslie may seriously be feeling disillusioned with her beloved Pawnee. When she gets up to give her speech, Leslie lets loose. She talks about how her town hates her, glad to be able to let loose four thousand miles away from Pawnee. Unfortunately, Jerry was streaming the whole thing live in Pawnee, so they all heard Leslie say that Pawnee is full of pee-pee heads. Awkward. As usual, it's Ron who reins in Leslie's crazy. They sit by the Thames, and Leslie gives Ron his wedding gift. It includes a train ticket – and by the way, apparently everyone thinks London is on the continent of Europe. It's not, guys. I don't think Pawnee taught geography. Anyway, it's a train ticket, and it doesn't say where it goes. Ooh, mysterious…. Back in Pawnee, April helps Leslie clear slugs out of an angry citizen's garden, and it's literally a thankless job. When the aforementioned citizen returns, she's angry that ALL the slugs are gone. Evidently when she said she wanted the slugs removed from her garden she didn't mean all of them. April is genuinely surprised by how Leslie takes that reaction in stride, but Leslie explains that she doesn't do her job to receive thanks. She does it to improve the lives of the citizens of her city. Still in London, Ron is boarding his train. He still doesn't quite know where he's headed yet, and it says something about his and Leslie's friendship that he actually trusts her enough to go along with it regardless. As it turns out, Leslie has sent Ron on a trip to the Lagavulin factory – the place that produces Ron's one great love…Lagavulin whiskey. Good on you, Leslie. That about wraps it up. Welcome back to my TV,
Parks & Recreation
. It's great to have you back.
"The Pawnee-Eagleton Tipoff Classic" Recap:
Photo Courtesy of NBC
This week
Parks and Recreation
brought in another beautiful guest star – as if Heidi Klum weren't enough! Kristin Bell makes her Pawnee debut as an Eagletonian big wig named Ingrid DeForest. By all accounts Ingrid is Leslie's Eagleton counterpart, only last year she won a beauty pageant while still in office and pregnant. So anyway, she and Leslie hold the press conference for the annual Pawnee-Eagleton tipoff – a basketball game between the two towns' high schools. As an offer should Eagleton win, Leslie presents a basket of organic but wormy Pawnee apples. Ingrid presents a basket of Swarovski crystal oranges worth $700,000.  Typical Eagleton, right? Meanwhile, Ron gets super freaked out when he receives a penny saver addressed to him, personally, at Diane's address. As one could probably have foreseen, he considers it to be an invasion of privacy and sets off on a mission to go completely off the grid. He employs the help of both Tom and Donna to do it. I can see this ending kind of badly. It goes so far as Ron having Donna cut up every credit and ID card Ron has…and Ron storming off to JJ's Diner to remove the picture of him that hangs on the wall. Tom evidently missed the entire point of their day's work, as he had been posting pictures of Ron all day on facebook. Ron panics when he finds this out, and attempts to delete them, resulting in possibly the funniest moment of the episode. Ron accidentally opens the Vine app and records himself, after which he drops Tom's tablet and runs out of his office, yelling, "The world is a nightmare!" Apparently Eagleton is having some money problems, and Chris and Ben have been asked to give it a look. "Auditing bros" are reunited! The geekery that occurs subsequently is almost hard to watch, but in a good way (I think). Evidently the two of them have their own super secret handshake to boot.
Photo Courtesy of NBC
Leslie accompanies Ben and Chris to the Eagleton budget meeting, where Ingrid actually refuses to talk about money. Evidently it's "gauche," even in a budget meeting. The problem is worse than Ben and Chris could have even imagined – evidently Eagleton had the same monetary lull that Pawnee did a couple of years earlier, but instead of trying to fix it, they just kept taking loans from the state. Okay, I only just learned how to balance a checkbook, and even I know that's stupid. Of course, this is the best news ever from Leslie's point of view. She rescued Pawnee from bankruptcy and reasoned that she could remind the town (which is still trying to recall her) of this while simultaneously allowing Pawneeans to gloat as they watch their enemy burn.  Unfortunately for Leslie, Ben decides to actually help Eagleton, and in the end she does, too. The solution is one that may cost her the recall vote, but in her usual Leslie-ish fashion, she decides to do what's best for the people. Therefore, it is decides that Eagleton will merge with Pawnee. What? Leslie decided to join with Eagleton? What is this? I don't know! Everything is insanity! In a kind of strange happenstance, April and Ann are headed to Bloomington together. April has her veterinary school orientation, and Ann has to pick up an organic baby blanket – evidently Pawnee's only baby store is literally attached to a chemical refinery. Somehow this doesn't shock me.  They get to Bloomington and Ann drops April off at her orientation (making it clear that the nice girl showing April around does not deserve to be tortured.) Ann heads over to the baby store, and she's super excited to find bibs that don't have Dale Earnhart Jr.'s face all over them. The joy sort of peters off when she sees April walking up to the store, clearly having left her orientation early. She drags April back to the orientation. Man, is Ann going to end up being a good mom. In the end, though, April decides that she won't be going to school there. When questioned by Ann, she explains that she makes her decisions by going with her gut, and her gut said not to go to school there. Evidently April's "go with your gut" way of doing things seems to have really affected Ann. When she gets back after her shopping trip she goes straight to Chris' office.  He asks how the trip was, and as she's explaining, Ann decides something. She goes with her gut, asking Chris what he thinks of possibly raising their child somewhere other than Pawnee. BAM. It looks like we have our Rob Lowe/Rashida Jones exit strategy coming together right before our eyes. And it makes me really sad. Well, at least next week's episode promises to be a good one. It's called "Doppelgangers" and it has Leslie teaming up her Pawnee government workers with their Eagleton counterparts.
http://www.Twitter.com/PopWrapped
https://pop-wrapped.tumblr.com
http://www.SoundCloud.com/PopWrapped
http://www.Facebook.com/PopWrapped
http://www.Instagram.com/PopWrapped
http://www.Pinterest.com/PopWrapped
http://www.YouTube.com/PopWrapped
https://pop-wrapped.wordpress.com
http://www.PopWrapped.com