Last week's Downton Abbey brought us the absurdly adorable nuptials of Mr. Carson and Mrs. Hughes, and a surprise visit from Tom and Sybbie (who we find out are here to stay)! On a show that seems to positively relish in the salty nectar of our tears, all these happy arcs have me wondering when the next well-polished shoe will drop...
We kick off with Tom getting reacquainted with the land. He heads back to the house to breakfast with the rest of the family and we get a little bit of Edith/Mary bickering before heading downstairs with the servants. 
Baxter gets a note from the sergeant and wants to question her regarding Peter Coyle. Once again, this man has managed to manipulate a woman into doing his criminal bidding. They want Baxter to testify against him so that he is not allowed to ruin any other innocent lives. She wants nothing to do with it, but Mr. Mosley believes it will be a good way for her to close that chapter once and for all.
Cora is trying her best to figure out a way to get Mr. Mason into the Drewe's farm, but Tom and Robert believe it is more beneficial to take that land over and tend it themselves. Cora is not one to be swayed easily, though.
Daisy finds out what the family is planning for the farm, via Barrow of course, and believes that they've turned their backs on Mr. Mason. She is pissed.
Mary finds that their guests nephew is actually Henry the race car driver. She is very clearly intrigued by this handsome newcomer.
Lady Shackelton, Robert and Violet have the best sparring match ever. Violet talks about joysticks and insults Robert's intelligence and honestly it's magical.
The hospital talk continues over dinner and Maggie Smith continues to just stun me. It's no wonder they decided to end it once she announced her departure. Everyone on this show is great, but it is exceptional because of her.
Robert's insides continue to give him fits, and if this isn't a blatant show of foreshadowing I dunno what is. I suppose this IS the final season... a main character death isn't so unreasonable...
Baxter and Barrow have a really sweet exchange out back. He can't figure out his purpose in life, and she can't make a decision to save her life. They find solace in each other's misery, but not in a malicious way. Just comfort that they aren't alone.
Baxter decides that she will testify against Coyle and Mosley is enamored with her bravery. I do so hope they'll end up together.
Mr. Harding comes to visit the family by invitation of Lady Rosamund, and we find out that his wife is the former maid, Gwen! Also known and Ygritte on Game of Thrones, or Rose Leslie, in real life.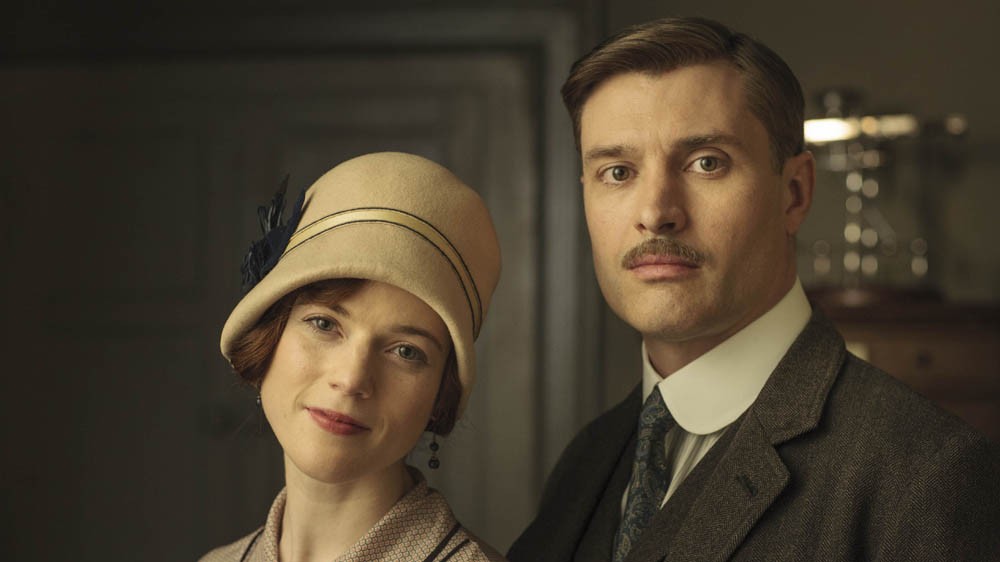 Nick Briggs
Gwen has really made something of herself and has married way up in life. She's a real advocate for women's rights and education. The family doesn't initially recognize her, but Barrow and Anna do right away. She didn't say who she was immediately, so Barrow takes the opportunity and does it for her. It turns things awkward fast. S
he tells the family that it was Sybil that really helped her. She found her the jobs and drove her to all the interviews. It was all Sybil. The family is grateful to hear a story about their beloved Sybil and warm immediately to this women who had such happy memories and stories to tell about her.
Anna is preparing to dress Mary when she gets a sharp pain in her abdomen. She is sure this means that she is having another miscarriage, and Mary flies into action and insists that they  dash to London immediately. They tell some lame stories to the family and Bates and Tom drives them to York to try and catch the late train. 
Daisy has decided that she has to have it out with Cora about Mr. Mason, despite all of the objections from the staff. 
Just then, Cora is doing her best to talk Robert and Tom into letting the farm out to Mr. Mason. She asked them what they thought Sybil would want them to do. Of course, this means that they will let it out to him, and all will be well. That's definitely what Sybil would have done. 
Cora leaves the drawing room to head to bed and runs smack into Daisy ready to pitch a fit. Robert comes out and spills the beans and Daisy is saved from making a fool of herself when she hears the wonderful news. 
We flash back to London and the doctor tells Mary that everything went well. Anna is resting and he was able to put the stitch in her uterus and save the baby. He is cautiously optimistic. 
While Mary is in London, she takes time out to meet Henry the race car driver for dinner. They have ridiculous chemistry, honestly. He seems like a real match for her. Not just his prospects or station, but he is exciting and smart and different. He will keep her on her toes and not be steamrolled by her. Yes. I approve. 
Mr. and Mrs. Carson are coming home and they've got a little welcome-home party planned for the happy couple. Are they really gonna call her Mrs. Carson? On that, I do not approve. 
Anna tells Mr. Bates the happy news and they're just so cute I could cry. Oh, wait...
The family heads down to the kitchen to help welcome back the Carsons. Violet comments that she hasn't been in the kitchens for over 20 years, and Isobel asks if she's got her passport. They are the best set of frenemies there has ever been ever. 
The Carsons decide that Mrs. Hughes will continue to be... Mrs. Hughes. Too confusing, and honestly just weird, otherwise. Mr. Carson goes to check out his room and make sure everything is all packed up, and he seems to be having a... regretful... moment? He definitely seems sad that life is changing. And like, yeah, I get that, but this is what you asked for, brother. Marriage means everything changes. Don't you break poor Mrs. Hughes' heart now, I mean it!
Next week I imagine we'll get a glimpse into what married life is actually like for the Carsons, as a well as a continued courtship between Lady Mary and Mr. Tolbert. I ship it all the way. 
Until next week!