So far on the final season of Downton Abbey, our beloved characters have been getting pretty much everything they want. Being the cynical minx that I am, this leads me to believe that we're overdue for some heartache. 
Tom and Mary are discussing the estate. Mary doesn't think Robert is ready for all the changes they're ready to implement. He is sickly, after all. Too many changes may actually do him in. 
Edith has a note from Bertie and he wants to meet while she's in London. Robert's interest is piqued but Edith assures him it's nothing like that. Papa isn't so sure, however...
Violet is here and plotting against Cora again. She is still 100% against the idea of the York people coming in and taking over their village hospital, and ergo, her power. 
Mrs. Hughes tells Mrs. Patmore that Mr. Carson is expecting dinner in their marital cottage tonight. Since Mrs. Hughes has spent her life running a household, she has no idea how to cook. Mrs. Patmore tells her she'll make her a basket and is a bit snarky about it, and Daisy says not to mind her, Mrs. Patmore's just jealous. When Mrs. Hughes leaves, Mrs. Patmore tells Daisy, "Well maybe I am!" That is why I love Mrs. Patmore. She is completely self aware and is not afraid to express her desires. 
Mr. Carson and Mrs. Hughes are having some growing pains as a married couple. Mr. Carson is used to giving orders and having things done a certain way. Mrs. Hughes is also used to being in charge. Them living together is going to take some serious ebb and flow on both their parts. 
Daisy, Andy and Mrs. Patmore are making a picnic to head over to Mr. Mason's new pad.  I have a feeling Mrs. Patmore may find her happy ending in Mr. Mason. Fingers crossed. That amazing lady needs some happiness. 
Tom and Mary are walking the estate again and he's inquiring about Mary's Mr. Tolbert. She tells him straight up that she won't marry down, whether that sounds snobbish or not. He tells her that stature doesn't matter in the end. Sybil was a great lady, and he was a chauffeur, but they were equals... a perfect match. It doesn't make sense to turn the other cheek just because of societal standards. 
Denker spots Dr. Clarkson in the village and gives him a piece of her mind on behalf of her lady. He is sufficiently mortified, and I know that Denker will have a severe tongue lashing waiting for her from Lady Grantham. 
Mrs. Patmore, Daisy, Andy, Lady Mary and Tom all come by to welcome Mr. Mason to his new farm. Mary and Tom are there to discuss the pigs and are wondering if Mr. Mason is able to undertake the physical labor that it entails. Andy volunteers his time as Mr. Mason's farmhand and all parties seem to accept this arrangement. 
Edith is on her "not-a-date" with Bertie and they already seem quite chummy together. She invites him to her flat for a drink and that seems very forward for her! He agrees and they plan to meet later. 
Mary and Tom are watching Mr. Tolbert race and it's something that clearly makes Mary extremely uncomfortable. We must remember, after all, that it was a car that stole Matthew from her on the day of their son's birth. 
Edith is interviewing new editors for her magazine. If you recall, her old editor was fired because he was, well, a huge douche bag. She's decided to take on an educated woman now, since it IS a woman's magazine, after all...
Cora and Robert are holding down the fort with the grandkids while their parents are out of town. Robert asks Cora if she can just back off and let Violet have her way. Cora tells him that she has spent the last thirty years letting his mother have her way, but this is too important. Lives are at stake at this point and it's not something Cora is willing to compromise on.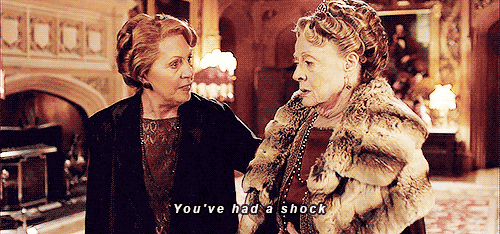 Violet has a note from Dr. Clarkson and she is completely mortified at her behavior. She gives her the tongue lashing that I've been waiting for and a furious Violet is basically the best thing that has ever happened ever. Isobel is hilariously amused and then Violet fires Denker and then. Oh. Well that's not so funny anymore. She totally deserved it, though. 
Mary, Tom and Tolbert are having a beer in a pub together. Mary and Henry are dancing around their courtship and Tom completely calls them out. It's hilarious. I love seeing Lady Mary out of sorts. It's such unfamiliar territory on this show.
Andy has some books from Mr. Mason about pig-rearing and Tom comes in and sees him struggling. I think at this point we can deduce that Andy is illiterate. 
Edith and Bertie are checking out her bachelorette pad. Edith found her editor and she is heading back to Downton tomorrow. They have a few other cute exchanges and then they share a sweet kiss. Bertie is clearly very smitten with her, and he is sweet and smart. A bit vanilla, but a very good, solid man. 
Daisy feels that Mr. Mason and Mrs. Patmore were getting their flirt on a bit, and she gets very possessive of him and discourages her from continuing to bother him. Mrs. Hughes is giving her a bit of a lecture when Mr. Carson comes in and asks if Mrs. Patmore can give her a lesson. She's not so good in the kitchen, after all. He has so clueless, he has no idea that he's stepped in it, with all the women. 
Robert and Cora are getting ready for bed and he's feeling awful, and still trying to talk her into acquiescing to Violet's whims. She sticks to her guns, and I've never loved her more. 
Barrow hears a skirmish in Andy's room and goes to find that he has thrown a book against the wall. It's true, Andy can't read. Barrow is going to help him for sure. I almost feel like, out of all the characters, Barrow's transformation may be the most severe. He has come so far and, while he does still relapse from time-to-time, I do think that he may be able to find redemption after all. 
Denker has not left the house, and blackmails Spratt with the information she's got on his nephew. If he doesn't save her job, she goes to the authorities. His hands are rather tied. 
Anna and Bates are discussing Mary's prospects, as well as their own bright future. Anna doesn't want to get too cocky and is superstitious about early celebration. Bates humors her and shouts "butt harvest" into the air to cancel out his jinx. Seriously. The cutest. 
Spratt miraculously saves Denker's job and, simultaneously, his as well. 
Violet has orchestrated a dinner party with the Minister of Health to try and sway him to her side about the hospital. The gloves are off, and she is from the school of hardknocks (or something to that effect) and she will do anything to get her way. God I love her. 
Baxter didn't have to testify in Coyle's trial after all. She feels very relieved, and I don't blame her.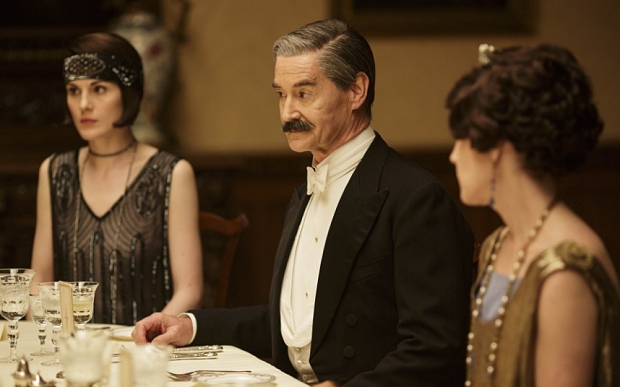 ITV
Violet is straight up attacking the Minister and he was completely unprepared for the onslaught, clearly. Isobel steps in the middle and tells her that her vehemence has made her forget her manners. Just then, Robert suddenly stands up and tells them that he feels very bad. He spews blood all over the table and falls to the floor... Dr. Clarkson tells them that his ulcer has burst. The ambulance is summoned and he is whisked off to the hospital, looking incredibly grim and gory, with blood pouring out of his mouth. 
Tom finds himself alone with the Minister and asks him why he actually came to dinner that night. Turns out, Violet had something on him about his wife's brother and a prank that went wrong. He didn't want to take the chance that she would actually out him. 
Mr. Carson is understandably shaken. He adores Robert, and seeing him like that could not have been easy. The whole staff is gathered together around the big table waiting for news. Carson gets a phone call from Lady Mary reports back that Robert has had his operation and is resting peacefully. 
Edith and Mary are back at the house and Mary tells Tom that they need to extricate Robert from the running of the estate entirely. It's causing him too much stress, and he can't handle it anymore. 
Anna is waiting for Mary to get her ready for bed, and Mary asks Anna if there is any talk in the servant's hall about Miss Marigold (Edith had gone to the nursery to check on the kids). Anna tells her that everyone thinks she's a lucky little girl to have been taken in by such a great family, but that that's pretty much it. Mary isn't so sure. She is onto Edith, no doubt. 
Oh man. Okay so Mary is totally about to call Edith out about Marigold. Next week, they're going to let the house out to charity for a day, and let people tour it? No matter what, the drama will only continue to spike from her. We're due for some serious scandal. 
Until next week!