Last week on Downton Abbey, Mary turns her back on Henry Tolbert, despite her obvious feelings for him. We also found that Bertie wants very much to marry Edith; but Edith has baggage that is frowned upon in these times. Does she marry him and just never tell him the truth about Marigold, or does she take the risk that he'll leave her by revealing her past?
Cora is giving her pretty the exact same spiel to start out the episode. 
Mrs. Patmore finds out that her very first patrons at her bed and breakfast were a couple of crooks. The officer who breaks this news also tells her that her dwelling may be labeled as a "house of ill repute." Mrs. Hughes tries her best not to chuckle at this while Mrs. Patmore is visibly appalled at the idea of it all. 
Mary and Tom are strolling through town when they find a newspaper that mentions the owner of the estate that Bertie works for has died quite suddenly. Mary assumes this will mean that Bertie is out of work, and now not only will Edith be marrying "simply an agent," now he is an unemployed agent, to boot. Such a snob, she is. 
Anna and Mary are getting a good chuckle out of Mrs. Patmore's bad luck. They all feel terrible for her, but I cannot lie, it is funny.
Daisy gets some great news about her test and finds that she got high marks on all of her papers. 
Edith comes into the drawing room after speaking with Bertie to explain what happened. His cousin, the owner of the estate he worked for, was a very young man and no one expected him to die before having some heirs. He did, however, leaving his entire estate and his title to Bertie. So now, Bertie is a marquis and, should he marry Edith, they would outrank all of them. Mary's green monster is rearing its ugly head.
Rosamund implores Edith to tell Bertie the truth about Marigold, and I think it's safe to assume that we will see this tangled web unravel in this episode. 
Mary and Tom are walking the estate and Tom begs Mary to be true to herself. He knows her better than anyone. He knows that she loves Henry and her arguments about it being "harder the second time" are not enough to throw him off. He tells her that Tolbert is the one for her, and it's clear that Tom is one of the only people that refuses to back down to her. 
Rosamund and Robert cannot stop their bickering, but are forced to cease quickly as Bertie and Edith walk through the door. Bertie is quite a mess and breaks down in tears in from of the family. They are all quite enamored with him, and his title has very little to do with it. He's a kind and decent man, anyone can see that.
At luncheon, Mary bluntly asks Bertie if he is here to get things settled with Edith before he leaves. Everyone is taken aback and Cora quickly moves the conversation along to graze over the awkward moment. 
Mrs. Patmore arrives at her B&B to check on her niece when she and Mrs. Hughes come upon a photographer waiting in the bushes. They rush into the house and find out that he's been waiting there all day, and all of the bookings have cancelled. Oh man, poor Mrs. Patmore.
Mr. Mosley takes on his first class after passing all of his exams. He's going to have a rough go of it for a while.
Bertie and Edith are discussing the future and is he is making a very good case for her to finally accept his proposal; but she fends him off and tells him it's time they head back because the children will be down shortly. 
Mr. Carson is listening to Mrs. Patmore's plight when the doorbell rings. Carson brings Mr. Tolbert into the drawing room to the surprise of everyone, but none so much as Mary. She is straight up pissed, at both Henry and Tom, who orchestrated the whole thing. 
She is giving Tom a severe tongue lashing, when Tolbert passes by them to dress for dinner. He tells her that if she plans to get rid of him, he's going to make it as hard for her as possible. 
Mary is not happy with the family for allowing Tolbert to stay, and while none of them think the match is ideal, they recognize that she is madly in love with him, whatever that is worth. 
Tom admonishes Mary for not falling into Henry's arms simply because he isn't a new marquis. Shame on her for throwing love away because of rank. 
Henry catches up with her and, again, says all the wrong things. Why are they wrong? Because they're true, and Mary runs away from the truth. Anna reconsiders her stance on the whole thing. She believes he is stronger, or as strong as Mary, and THAT is what scares her. She can't control him, and she doesn't know how to handle that.
Bertie asks Edith to finally give him an answer, and she tells him that she's not as simple as she once was. After she expresses her love, he decides to just take that as a yes. She does not spill the beans about Marigold.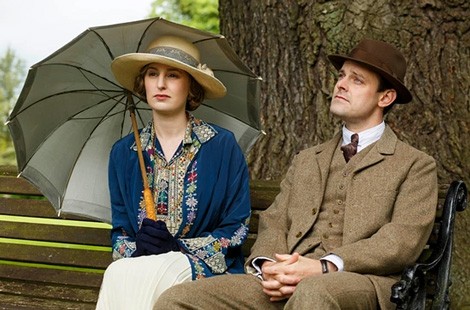 ITV
The family is at breakfast the next morning and Mary comes swiftly down searching for Henry. Tom informs her that he's left, and she looks deeply disappointed. 
Robert leaves breakfast and Mary joins Edith, Tom and Bertie around the table. Bertie goes to inform the family that they will be married, and Mary is clear that she is not as happy as everyone else may be. Edith says something along the lines of, "See? Mary can't stand it when things are going better for me than for her. I'm getting married and her man has left." That's when Mary tells Bertie that she thinks it's great that he is still willing to marry Edith despite her past. Edith blurts out that Marigold is her daughter, and Bertie hastily dashes out of the dining room and calls a taxi. 
The family decides to go and have tea at Mrs. Patmore's B&B to help turn the gossip around a bit. She is bowled over the by gesture. 
Edith and Bertie are having a little jaunt around the yard and he tells her that he can't get over the fact that she didn't trust him enough to tell him outright about Marigold. He can't spend his life with someone he does not trust and that does not trust him. He looks very close to completely changing his mind and kissing her instead, but shakes the feeling and hurries off to catch his train. 
Tom is not buying any of Mary's excuses. He tells her not to lie, and that she can't stop ruining things. Her own life and Edith's, to name a few. He tells her that she's a coward, just like every other bully, and she does not know how to handle him calling her out like that. 
Mary is heading to her room when she decides to make a detour to Edith's suite. She tries to apologize but Edith is not having a bit of it. Edith calls her a "Jealous, nasty, scheming bitch." Mary tries to cut Edith off, but Edith continues by saying that she wasn't satisfied with just ruining her own life, she had to to ruin Edith's as well. Then she tells her that, as Mary so often is, she's wrong about Henry. He is perfect for her, but that maybe they should all be grateful that he's gotten away from her, at least. Then she storms out en route for London. 
Something Mr. Mosley says about Barrow freaks Miss Baxter out and she runs back to the manor to check on him. Andy tells her that he saw him going in for a bath, and the break down the bathroom door to find him in the tub with slit wrists. 
Andy rushes to find Mrs. Hughes and Anna to bring them to Barrow's aide. 
Edith finds Tom walking the streets and asks him to drive with her to the train station so that he can take the car home. She has not said goodbye to any of the family and feels an urgent needs to just GTFO.
Mrs. Hughes comes to save the day and she, Baxter and Andy get him out of his wet clothes and into bed before going to fetch Dr. Clarkson.
Mr. Mosley is proving to be a fantastic teacher with a great knack for inspiring others.
It's tea time at Downton and Carson informs the family that Barrow has attempted suicide, and it leaves them all quite shaken. Mary asks Robert if he still thinks dismissing Barrow was a useful saving, and he tells her that that was below the belt, even for her. She is miserable, and it is spreading to every single person around her. 
Anna is giving Mary all the details about Barrow and Mary is finally starting to feel the weight of the day's actions. Mary isn't stupid, and while she can be incredibly harsh, her biggest problems is letting herself FEEL. If she starts to do that, thoughts of Henry will inevitably creep in. 
Edith is back at her magazine where she really seems to be the most in her element. I love to see her kicking ass and taking names in London society. 
Mary brings George down to visit Barrow, and they are still stupidly adorable together. The little cutie really does seem to raise his spirits. 
Today is the day that the family are going to show their solidarity to Mrs. Patmore by taking tea at her B&B. Mr. Carson is thoroughly against the idea, but who cares? He's against everything. 
Tom grabs enforcement in the form of Lady Grantham to try and talk some sense back into everyone. She asks where her brokenhearted granddaughters are and finds that Edith has already fled. She thinks Mary likely needs her more than Edith does, anyway. 
Violet chastises her and tells Mary that she believes she is lashing out at everyone because of Henry. Violet tells Mary to put aside all of the reasons that she shouldn't marry him, and focus on the important things. Like the fact that they are both completely in love with each other. She does believe in playing their parts and rules and traditions, but more importantly... she believes in love. Tony Gillingham was everything that a grandmother could have wanted for her granddaughter, but he wasn't strong or clever enough, and Mary didn't love him. Henry is her perfect match. She tells Mary to make peace with her sister, and then make peace with herself.
Maggie Smith can literally fix anything. 
Mary tells Tom that as soon as Violet left, she telegrammed Henry asking him to catch the next train. It's time she follow her heart. She's also ready to sincerely apologize to Edith, but doesn't know if she'll hear her out.
Then we find out that Edith's mysterious columnist is none other than Spratt!
Mary goes to visit Matthew's grave to explain herself to him. I believe she feels a bit guilty at having found love again, but believes that Matthew would be genuinely happy for her. I believe that, too. 
She meets Isabel on her walk from Matthew's grave and Mary tells her that she has come to ask for Matthew's forgiveness. Isabel takes this to mean that Mary wants to marry again. She tells Mary that she is delighted that she has found love once more. 
Henry arrives at Downton and Tom makes his leave so that he and Mary can speak in private. Mary tells him that he was right, they are in love. She doesn't know why she's fought it for so long. They share a passionate kiss (well, 1920s passion, anyway), and now the wedding is definitely happening. They will be married in just a few days' time.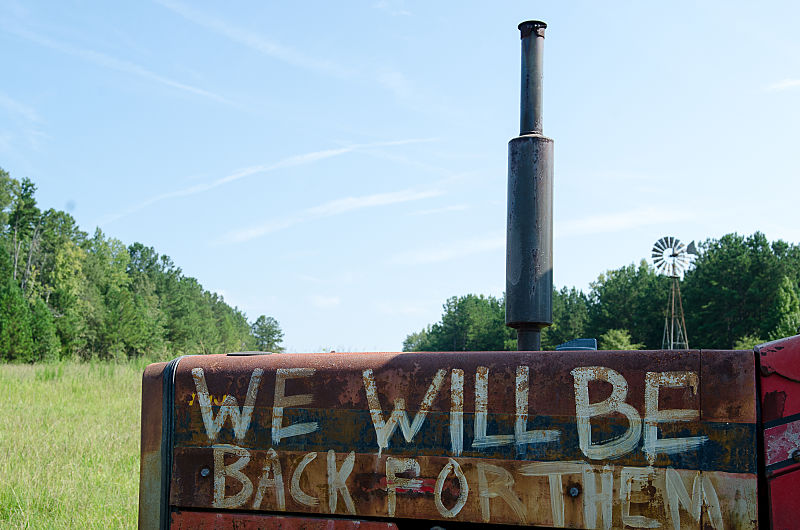 ITV
Oop, it's wedding day. That was fast! Edith has graciously come up from London to be there on Mary's day. Edith is far more insightful than anyone gives her credit for. She tells her that, in the end, no matter what happens between them, they are sisters. Pretty soon, they'll be all each other has. 
Mary asks Edith what she thinks Matthew would have felt about the whole thing, and Edith tells her that she's sure Matthew would have been very pleased. It is the sweetest moment I ever remember them having. 
Henry and Mary are married! The ceremony is small and intimate, Mary already having had the big societal event her first go around. They look so very happy together, and I hope Edith is right in saying that, now that Mary's happy, she'll be nicer all around. 
I've seen some rumblings online that this final season of Downton Abbey is too saccharine, too predictably happy. I do not, however, see what the problem is with this. After spending years watching The Walking Dead and Game of Thrones, I find it quite refreshing that my favorite characters are actually finding a bit of happiness. Besides, a happy ending in the world of Downton is a far more realistic outcome than in the zombie apocalypse or the
mythical, magical world of Westeros. Happy tears are a nice change.
Next week, we will take tea with the Crawleys and company for the very last time, as the last episode ever of Downton Abbey is upon us. My tissue store is well stocked, and I hope yours is, too.
Until next week!