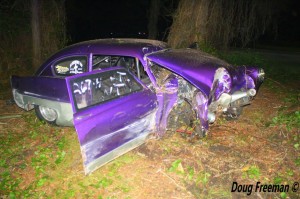 Margie Patton
Staff Writer
horrific crash
that sent her car smashing into a 5,800-pound cement wall at a speed of 121 MPH. The crash occurred July 19 in Green Cove Springs, Florida. Driver Kim Houston explained the details of the freak accident:
When I came through the finish line my car turned on me and went into the wall. When I hit the wall it took the tire off and the brakes, and it shot me out to the trees.
The owner of the track stated that all safety measures, including crash walls, were up to regulation at the time of the incident, but he will now add further safeguards including a guard rail around the trees Houston struck. Houston credits the safety equipment in her car for saving her life. The incident has not deterred Houston's love of racing, and she is currently seeking donations via her
Facebook page
to help rebuild her car.
Keep Up With PopWrapped On The Web!