Ugh.
Former Nickelodeon star (FORMER) Drake Bell made an upsetting comment on Twitter today, after the unveiling of Caitlyn Jenner's Vanity Fair cover.
Drake tweeted the incredibly insensitive: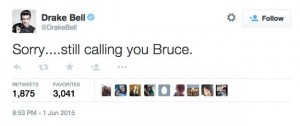 Twitter
The tweet has since been deleted and replaced with:
"That's bravery"
Fans immediately began to blast Bell for his choice of words after the first tweet, with some even tweeting about Bell's old show "Drake and Josh"and saying they've always liked Josh more.
The amount of support for Caitlyn has been overwhelming, so we really shouldn't focus on a NOBODY like Bell making a comment like this, however it's still extremely damaging considering he does still have somewhat of a platform.
No more comments have since come from Drake.