It's a new year, which means people are working on bettering themselves. They work out, focus on being happier, and maybe even change their diet. Well, let's hope they don't go the route Drew Barrymore's latest character is heading, because that involves the hunger for human flesh.
Yes, you read that right, Santa Clarita Diet is going to feature Barrymore chowing down on some people. Details are still a little vague on what exactly the overall plot will be for this upcoming Netflix series, but the tone seems to be relatively light, even in the face of the darker subject matter:
"Sheila [Drew Barrymore] goes through a dramatic change sending their lives down a road of death and destruction ... but in a good way."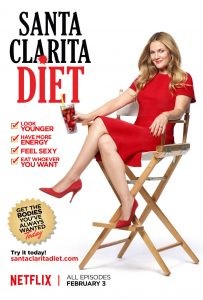 Vulture
This could mean anything, but then photos from the show hit the internet, and it became abundantly clear that the red stuff in Sheila's smoothie was more than juice. There is definitely a finger and maybe even an eyeball floating in there -- not to mention the diet promotion that features such helpful tips as "eat whoever you want" and "get the bodies you've always wanted."
Soon, details of the actual storyline began to emerge, and it seems Sheila's change in lifestyle isn't totally voluntary:
"The 'dramatic change' Sheila undergoes in the series opener is, in fact, death. And while they tend to their open houses and teenage daughter, the couple must sate Sheila's unbridled id and undead hunger, first with raw meat and, eventually, the human kind."
In other words, Sheila's becoming a zombie. Though Santa Clarita Diet will hardly be the first lighthearted take on the zombie genre -- iZombie has practically perfected the quirky undead protagonist -- it does seem willing to go darker, as a new promo images reveal a very shocked-looking Barrymore soaked in blood. Though we still don't know how or why this is happening to her, one thing's for sure: it looks like it will be a bloody good time!