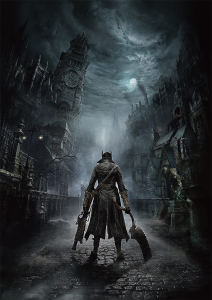 Courtesy of Sony
Jonathan Frahm Staff Writer
Dark Souls
fans? You're in luck. In what's deemed a spiritual sequel in the way that the
Dark Souls
games were for
Demon's Souls
,
Bloodborne
will be exclusively hitting the PS4 next year, and it couldn't look any more brilliant. In true From Software fashion,
Bloodborne's
debut trailer revealed itself to be a bloody gothic delight whose darkly locales are sure to spook even the most stoic of gamers. If that's not enough, expect rock-hard difficulty levels and impressively tremendous story arcs that the devs have infamously become known for producing, as well. Everything is only moderately hinted at here, including the game's amazing setting, but that in itself is more than enough to suffice as a welcoming first handshake from
Bloodborne
. Look forward to more information on the game as it nears closer to its 2015 release! Check out the trailer for
Bloodborne
below. Full of all manner of ghoulish delights, it's definitely not for the faint of heart. http://youtu.be/G203e1HhixY
Keep Up With PopWrapped On The Web!