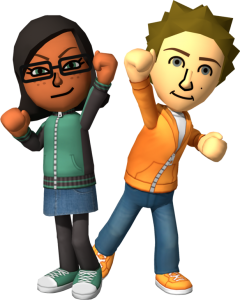 Jonathan Frahm
Staff Writer
Super Smash Bros.
titles today and, astoundingly, I couldn't be more excited. Even for
SSB
director Masahiro Sakurai, the inclusion of Nintendo's world-famous avatars in the series was originally an idea to hold up to skepticism. Now, though, they've been totally recognized as a classy addition to Nintendo's top-notch party/fighting game series and are looking like more fun than anyone could've ever speculated them to be. The Miis come in three different play styles: the Brawler, who fights primarily with their body ala Little Mac or Mario; the Swordfighter, who takes cues from characters like Marth and Link; and the Gunner, who is adept with projectiles ala Samus or Mega Man. With over 30 different special moves you can assign to them spanning across all three play styles and a slew customizable outfits on top of that, the Miis make for an exciting addition to the
Super Smash Bros.
series! The trailer revealing them is pretty darn fun, too, as Nintendo fans get the dream that they never knew they had realized as Ninty big-wigs Reggie Fils-Aime and Satoru Iwata have at it in top theatrical style. It's during this Mii reveal video that Reggie and Iwata take the opportunity to announce something else new to the
Super Smash Bros.
series: the incorporation of NFC characters. Just set your Mario Amiibo figurine over the NFC reader on the GamePad, and suddenly, you have your personal, customized Mario NFC Fighter giving you a helping hand. He could also end up fighting against you, depending on what you choose. Mario, Samus, Donkey Kong, Yoshi, Link, and Wii Fit Trainer Amiibo figurines have all been announced to be releasing in conjunction with
Super Smash Bros.
for Wii U when it launches in the Winter of 2014.
Super Smash Bros.
for Wii U will be the first in a tremendous lineup of upcoming games to take advantage of the software.
Mario Kart 8
will soon be amongst them thanks to an incoming update thereafter, at which point gamers may even be able to expect totally new characters, items, and courses for both games as time goes on. Alongside the Mii and Amiibo reveals came yet another one as
Kid Icarus
matriarch Palutena, the Goddess of Light, was finally announced as a playable fighter at the top of Nintendo's initial E3 showing. In the anime-themed reveal trailer, she's got all of the spunk
Uprising
fans will remember her for, and her moveset looks absolutely
divine.
Bad puns aside, Palutena marks yet another awesome addition to the
Super Smash Bros.
series!
Keep Up With PopWrapped On The Web!