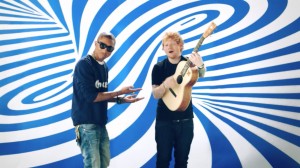 Jonathan Frahm Staff Writer
@JNoodles_
The wait's over! After a three long years' worth of waiting, everyone's favorite ginger singer-songwriter has returned to the music scene with his latest album, 
X
. While fans of past singles "The A-Team" and "Lego House" will find tracks suitably right in Sheeran's comfort zone, music enthusiasts will be pleased to know that he goes quite a bit out of it multiple times on 
X
, as well. "Sing", of course, features as the lead single on the record and introduces a funky side we'd never really gotten out of Ed before this. Elsewhere, "The Man" is a searingly honest 
rap
of all things, and surprisingly yet unsurprisingly spitfire track well-suited to the man's chameleon-esque versatility. "I'm A Mess" is similarly sincere yet in a whole other soundscape as he delivers a desperate, wispy melody across a driving folk-ridden beat with relative ease. One thing's for sure: 
X
is an album that's been worth waiting for! If you haven't yet, you can purchase it on iTunes. It's 16 tracks on the
deluxe edition
for $12.99 and each one is totally worth it!
Keep Up With PopWrapped On The Web!