The upcoming election has been called one of the most important ones in decades. While the Democrats do have control over the White House, Republicans have made remarkable gains in both 2010 and 2014. Some political scientists have gone so far as to say that this could be a determinative year for both the Republican and Democratic parties. 
It isn't just the balance of power in Congress or the Senate that is up for grabs; it's America's political future. Candidates don't just differ on their solutions to the problems facing American citizens, some of them differ on what those problems actually are. Where Republicans are, for the most part, focused on immigration, religion, and health care reform, the Democrats seem focused on environmental and social issues. 
Obviously, voting is essential to a democratic society - without voting there would be no democracy. However, obtaining accurate information about the candidates running is just as essential to the operation of a democratic society. It can be hard not to be swayed by a rousing speech, a credible-appearing attack ad, or a well-timed public relations move. In addition, it's easy to be convinced by scandals, public opinion, and the thoughts of friends and family. 
Unfortunately, it can be exceptionally difficult to separate the rhetoric and jargon from actual policies. This is where PopWrapped is here to help! We have compiled an comprehensive infographic to help you identify where each major presidential candidates stands on the most pressing issues of today.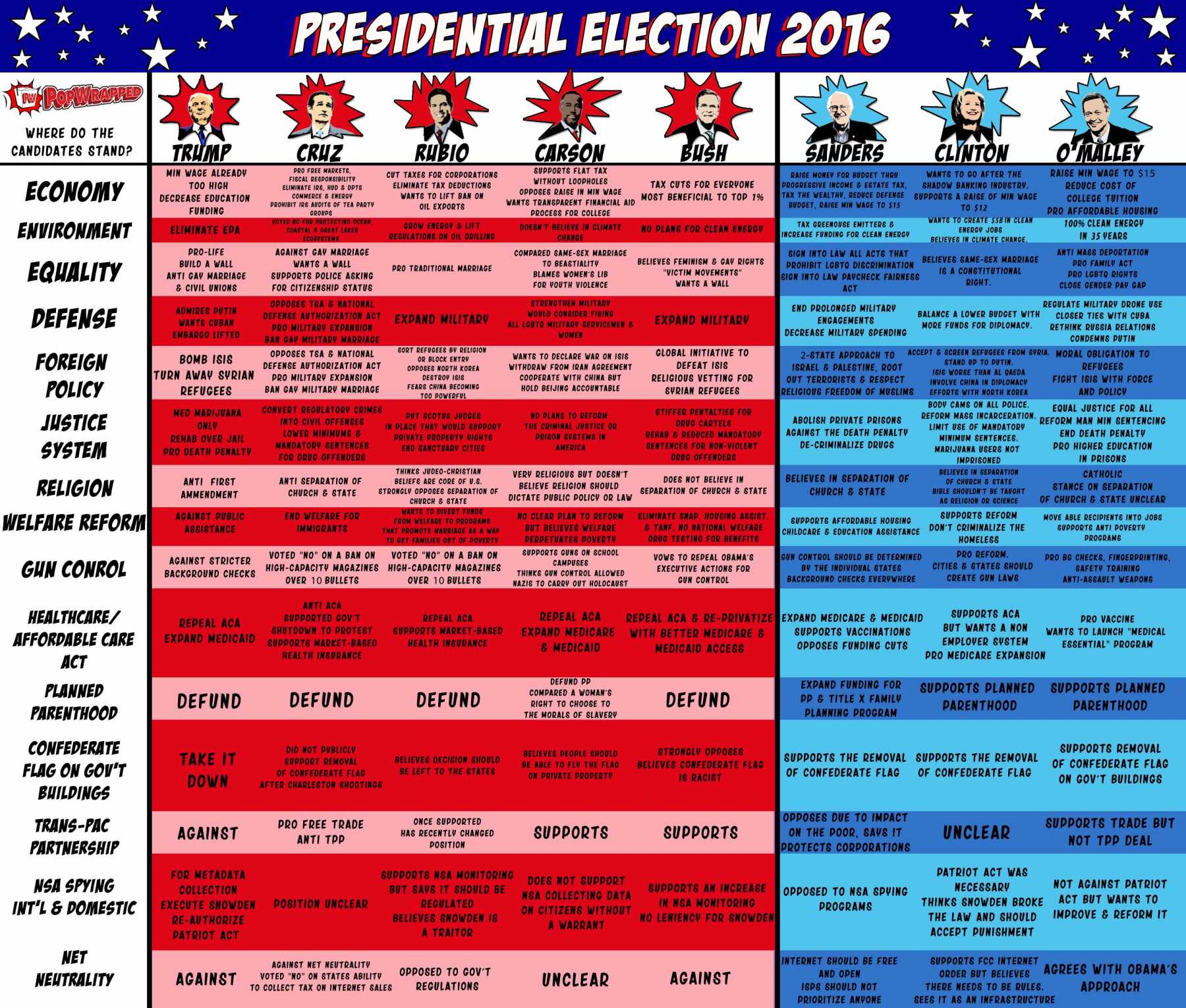 PopWrapped/Michelle Dawson (Click To Enlarge)
Democracy is built on the right of the individual to have a say in how his or her country is run. Voting can be an incredibly powerful move - if you doubt this, just think of the things that have been accomplished because a number of people decided to exercise their power to have a say. This right, this power, does carry with it an obligation to stay and remain informed on the issues. Remember what Uncle Ben always says, "with great power, comes great responsibility".