Shane Avery
Staff Writer
most watched
broadcast in 10 years! The wonderful Ellen DeGeneres hosted the event, which saw acting wins go to Matthew McConaughey, Cate Blanchett, Jared Leto, and Lupita Nyong'o. The Oscars pulled in a staggering 43 million viewers between 8:30pm and 11:41pm. These numbers, if they hold up, would actually make the program the most watched telecast since the beloved "Friends" series finale back in May of 2004. This really is amazing, and I'm guessing the Academy will have no problem asking Ellen back as host again next year. Between her pizza order, Glinda costume, and epic selfie that momentarily broke Twitter, Ellen was definitely the best host they've had in years.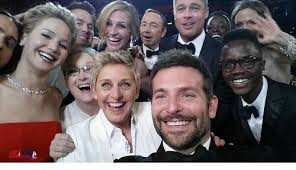 Photo Courtesy of reason.com
What do you guys think, do you want to see Ellen back as host next year? Let us know in the comments!
Keep Up With PopWrapped On The Web!