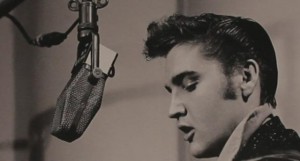 Jonathan Frahm Staff Writer
respectable title
to regard himself as: the King of U.S. Music Sales Charts. It was recently revealed by the Recording Industry Association of America (RIAA) that Elvis Presley is now the
best-selling solo artist in American history, period.
This was all a big part of a ceremony celebrating his life and legend at Graceland supported by RCA Records and BMG Strategic Marketing Group. Both are entities under the RIAA that have helped distribute and promote the King's work throughout both his posthumous and living careers. RIAA Chairman and CEO Mitch Bainwol said of the achievement:
Elvis Presley, quite simply, is an American icon. As such an important musical, historical and cultural figure, we're thrilled to be able to make this announcement. We will continue to work closely with BMG to make sure that there will be more exciting news about the Elvis Presley catalog in the near future.
Elvis' catalog includes a wide range of #1 hits including "Love Me Tender," "A Big Hunk O' Love," "Suspicious Minds" and "Heartbreak Hotel."
Keep Up With PopWrapped On The Web!