Emily Blunt is supercalifragilisticexpialidocious!
Entertainment Weekly has unveiled their June 16 cover featuring a first-look glimpse of Emily Blunt in costume as the titular character in Mary Poppins Returns, Disney's new installment featuring the beloved children's book character.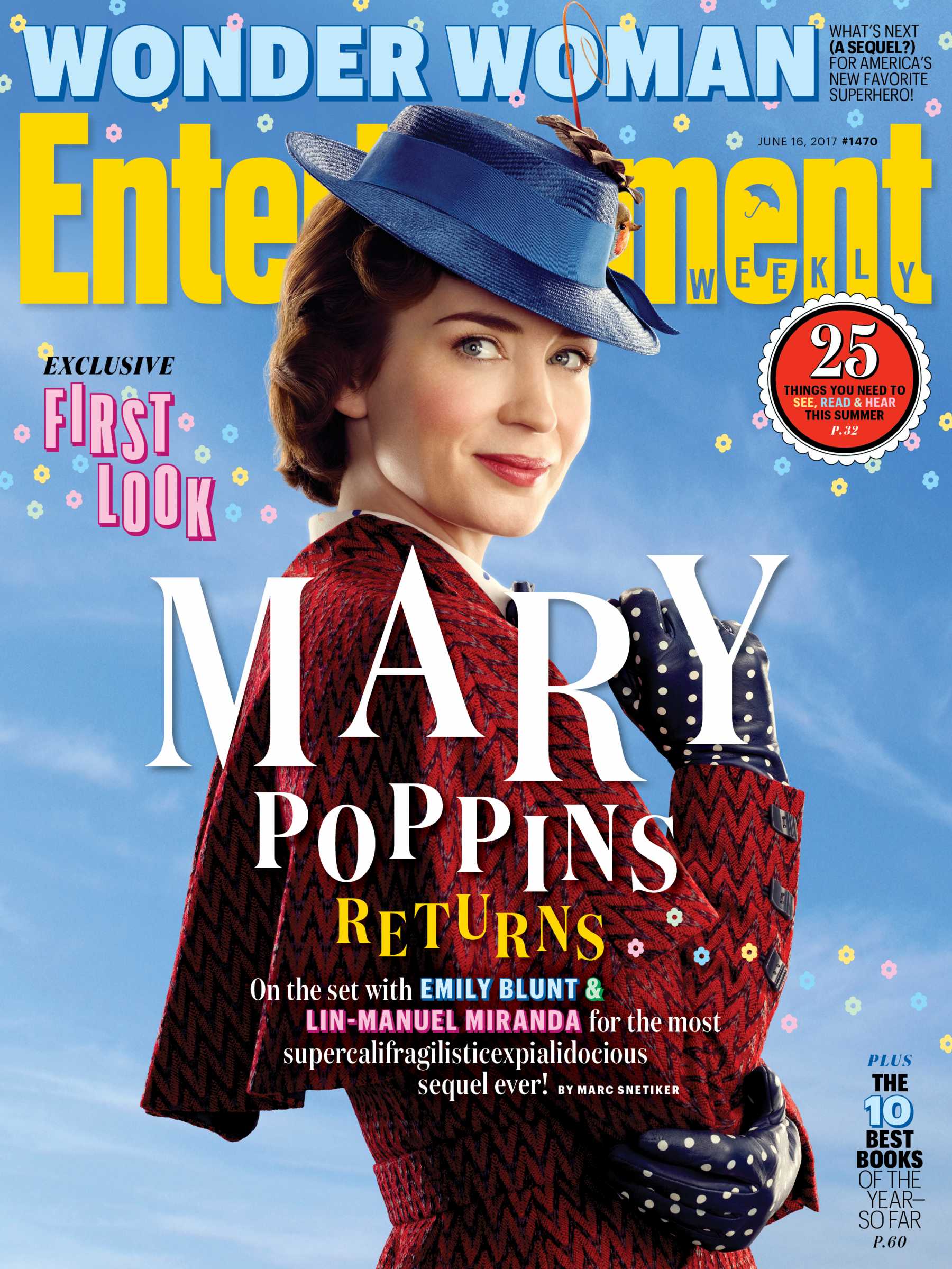 Emily Blunt Is Mary Poppins
Directed by Rob Marshall (of Chicago and Blunt's 2014 Into the Woods), Mary Poppins Returns will take place 25 years following the events of the classic 1964 film starring Julie Andrews and Dick Van Dyke. In this newest adventure of author P. L. Travers' magically out-there British nanny, the 1964 kids, Jane and Michael, are all grown up with children of their own. Jane (Emily Mortimer, best known for The Newsroom) is doing her trailblazing "Votes for Women!" mother proud as a union organizer in 1930s London, and Michael (Ben Whishaw, Q in the latest James Bond films), finding a balance between whimsy and practicality, is now an artist and a banker. Mary Poppins returns to the Banks' family in a time of sadness and uncertainty following the death of Michael's wife.
Marshall told EW, "The bar is so high for this. But to be able to walk in the footsteps of this beautiful story about a woman who brings magic to this family that's looking for wonder and hope and joy in their lives…I feel a great responsibility and reverence every day. We all feel it. We're just lifting it up to get there with the right intentions behind it."
Joining Blunt for a few spoonfuls of sugar—and hopefully spirited chalk art dancing—is Hamilton and Moana titan Lin-Manuel Miranda, who will be playing Jack, a friend of Mary Poppins and also the former apprentice of her old chimney sweep pal Bert (Van Dyke). Miranda is already spreading the Poppins cheer on his Twitter page, including updating his header photo to a group shot of the cast rehearsing by a piano and tweeting the news of the EW scoop.
Ooh, pics on pics on pics!#MaryPoppinsReturns https://t.co/iX9qnLFFyo

— Lin-Manuel Miranda (@Lin_Manuel) June 7, 2017
The filmmakers have revealed that Van Dyke has already filmed a "top-secret cameo" (and not as Bert!), and many more whimsically wonderful characters are bound to appear (including Meryl Streep as one of those giggly upside-down cousins). Fingers crossed that Dame Julie pops in too.
The June 16 Entertainment Weekly with more exclusive on-set photos and interviews hits newsstands Friday, June 9. Mary Poppins Returns lands in theaters Christmas 2018.