Although the reboot didn't go down famously, easily one of the best parts of the Amazing Spider-Man films had to be Emma Stone's portrayal of the beloved character Gwen Stacy. Known as one of the most heartbreaking and shocking deaths of the Marvel Universe (30 year old spoiler alert!), the film-makers decided to ax Gwen in the second installment of the series and, to be honest, the future of the franchise went with it.
After the announcement of the Spider-Man re-boot, so Peter can appear alongside the Avengers for Captain America: Civil War, it has been speculated that we will be treated to a younger version of Peter Parker than what we have had previously, and so it is possible that Gwen will be coming back. 
If you follow the comics, you will know that Dan Slott recently headed a Spider-Man event called Spiderverse, where different alternative universe Spider-Men/Women/Girls/Pigs etc. came together to fight an enemy that went around sucking the mystic Totem energy from them. It is a seriously good story line and as an aside, I would absolutely encourage people to read it!
Anyway, one of the Spider-Totems was Spider-Gwen. She came from a version of New York where Gwen had been bitten by the spider instead of Peter. Although only supposed to have been a small part of the story, fans fell in love with this Spider-Girl and she now has her own series. So what if we got tired of Peter? What if we wanted a bit of Gwen in the costume instead? What if we were to get Emma Stone in that role?
In a recent interview with MTV News, Emma Stone and her Aloha co-star Bradley Cooper, discussed the possibility of Spider-Gwen. Stone said:
"Yeah, I don't know. I know nothing about it, but I have read Spider-Gwen. That's all I know. I think a lot of pieces would have to come together."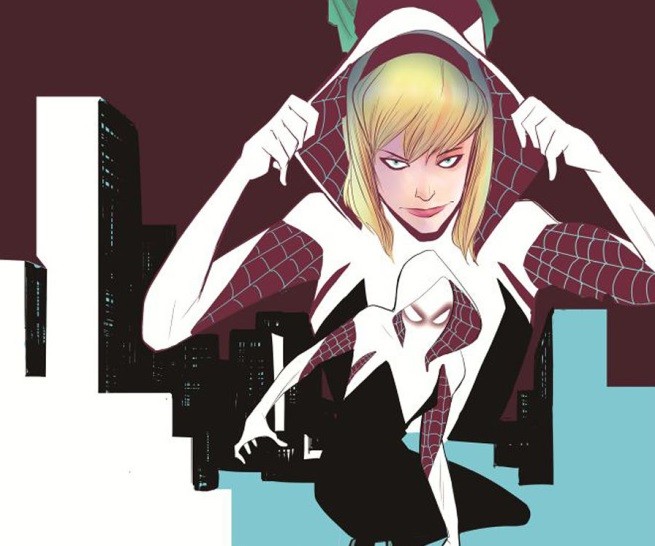 Courtesy of comicbook.com
Stone seems hesitant to share too much interest, as she was trying to promote her latest film, Aloha with Bradley Cooper so she didn't say much. Although it seems like a long shot, so did the possibility of Spider-Gwen getting her own comic; why not a film?
What do you guys think? Would you like the possibility of a Spider-Girl instead of a Spider-man? Let us know!