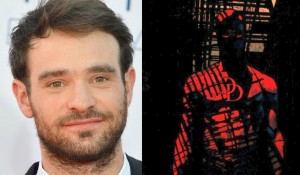 Bill Sweeney
Staff Writer
The Man Without Fear has been found
! Marvel announced that
English actor Charlie Cox,
most known for
Boardwalk Empire
and the movie
Stardust
, has snatched up the role of Matt Murdock, aka Daredevil, and is the first official casting announcement to come from Netflix and Marvel's new multi-series deal. Cox, who also appeared in the pilot for
Downton Abbey
, has his work cut out for him. As we all may remember from Ben Affleck's Movie version of the character, it can be something of a handful to balance Murdock's nuances. Consider the character breakdown: A blind NYC Irish Catholic lawyer who, because his other senses are immensely heightened, and he was trained by ninjas, likes to protect the streets by doling out the type of justice you don't get in a court room. Basically. They might leave out the ninja stuff, but we'll see. As long as he looks good with his hair dyed red, I've got all the faith in the world. The 13-episode-series recently saw show-runner Drew Goddard (
Buffy
,
Angel
,
Cabin In The Woods
) depart production to join Sony's Spider-Man film project,
Sinister Six
. Steven DeKnight (
Spartacus
,
Smallville
) quickly took the helm. An excellent choice.
Daredevil
will soon be joined by shows for Luke Cage, Iron Fist and Jessica Jones, all of which will culminate in a separate, team-up miniseries called
The Defenders
. The whole project will be in the same "universe" as Marvel movies and ABC's
Agents Of S.H.I.E.L.D
. Look for it to hit Netflix in 2015.
Keep Up With PopWrapped On The Web!