We always get asked where we are on a certain television show. Whether it's by our friends so they can keep spoilers away from us or by ourselves when we decide to try that show out for the third time, it's always hard to keep track of those dozens of television shows that we often find ourselves watching.
Trakt.tv was founded in 2010 and has grown ever since. The site allows you to check in to various television shows and movies, including those overseas. If the particular show or movie is not available on the site, you are able to import the information from The Movie Database (TMDb) or The TV Database (TVDb).
The website, then, tracks your shows through your checkins, letting you know how many episodes you have left, how many episode you've watched, the total viewing time for each and the percentage of episodes overall that you've watched.

Tamara Fuentes
If you have already finished an entire series, you are able to check-in to a series completely or check into specific seasons/episodes if you're trying to figure out what you've missed and what you still need to watch. This makes it perfect for those who are choosing to watch shows through syndicated broadcasts.
You are also allowed to re-check-in to shows and movies, allowing you to accurately keep track how much time you've spent on a particular series or movie.
Through your check-ins, Trakt.tv creates your profile that keeps track of how many episodes and movies you have watched weekly and overall. They also break down your check-ins by genres. You are able to rate shows on a 1-10 scale and comment on particular episodes or movies, if you wish to discuss with other users. A spoiler alert option is also available if you wish to talk about spoiler-filled content.
The television and movie tabs allow you to see which shows/movies are the most popular, watched, and currently trending on the site allowing you to discover new shows/movies along the way.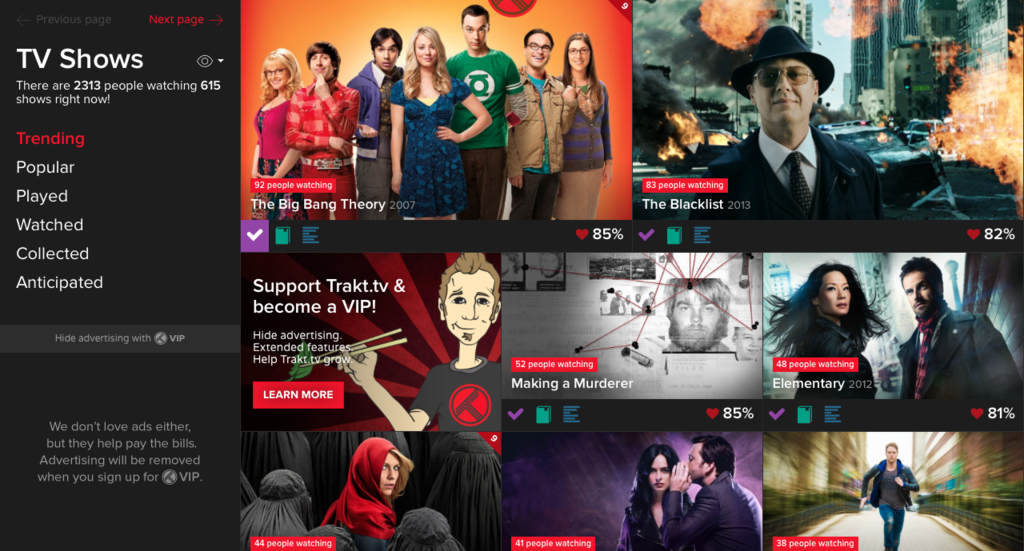 Tamara Fuentes
You are able to add and create lists to separate your shows/movies to different categories, including those you want to watch and those you are still watching or have watched already. The site also provides pre-made lists through its discover page, giving you different lists like the Marvel Cinematic Universe or the IMDB Top 250 Movies. The discover page also provides the top checked-in shows and movies of the past week.
One of the best features, in particular, is the site's calendar feature. Keeping track of television shows can be hard, especially with various hiatuses, but, now, Trakt.tv makes it easier for you to keep track of all your shows, including those on your need-to-watch list, and lets you know when the next episode will air. The only issue is that it gives you the international premiere of an episode, so if you are in the UK and watching a US show, it will give you the US premiere date and vice versa.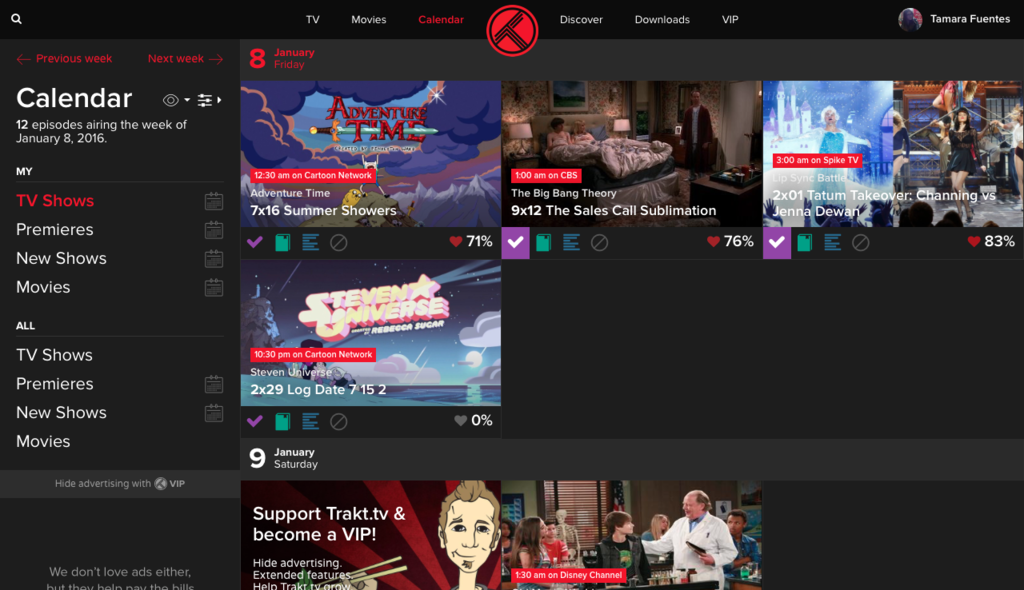 Tamara Fuentes
You can check-in through Track.tv's website or through connected apps that are available through various platforms, so you are always able to check-in on the go.  You are also able to download various extensions that can automatically check you in when watching on Netflix and iTunes, among other platforms.
Two different tiers are currently offered for its services: free and VIP. The free version offers all the above features, while the VIP version adds some special features, including iCalendar feeds, widgets, no advertising, and VIP discussion forums, among others.
Trakt.tv is one of the best ways to keep track of what you're watching, no matter how you choose to watch your favorite shows and movies. The website is simple to use, and its constant availability makes it easy to check-in and check your progress from wherever you are, whenever you decide to use it.