I mean first of all… If you're not already watching
Chicago PD
you're both crazy and missing out on what I consider one of the best cop shows on air. Let's face it Dick Wolf is a
GENIUS
! We're up to the fifth episode of the second season (so there's no reason for you not to catch … binge watching is a thing and is wholeheartedly encouraged!) and to say it was intense and anxiety-inducing would be an understatement. I mean thirty seconds into the episode we already have some shady business going down. This week, we see Sergeant Hank Voight get attacked and taken inside his own home. I mean, why would you even bother? He's got a reputation and he runs one of the most kickass teams in the district. The whole time this episode played I had one song in my head: I Don't Fuck With You – Big Sean. Considering that Voight is the head of the Intelligence Unit at District 21, you'd think that he'd know better than to leave his doors unlocked. But everyone makes mistakes because he's now getting beaten down in his own basement. Not to say he didn't put up a good fight because he did nearly gauge one of the robber's eyes out. Voight does not mess around. Obviously his absence at the district is noted and a concerned Detective Erin Lindsay (whose hair is always so on point, perfectly curled and rustled! #DetectiveHairPorn) grabs her partner to check it all out.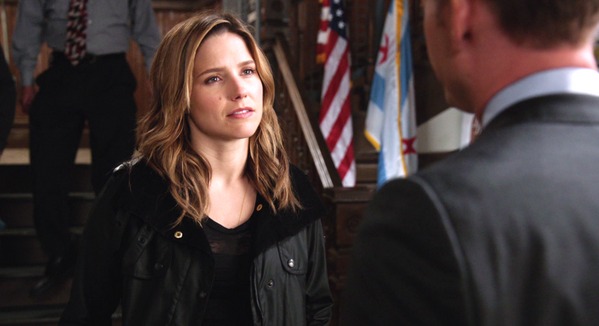 Twitter
So far so good … Voight's car is out front and there's no signs of a forced entry but obviously our two observant detectives have notice the tipped over chair! Who would have thought that a tipped over chair was equivalent to a kidnapping? The back door is open, there's blood on the floor of the basement and Voight's safe is missing. UH OH! Time to call in the rest of the team. Erin Lindsay is thoroughly concerned and why wouldn't she be? Her only family member has been taken and we know it wasn't random! Intelligence-newbie is slaying the game! Atwater's very perceptive finding the hidden security cameras! I mean, Voight may have not locked his back door but at least he had security cameras set up! (Good job Sarge!) TEAM MEETING ASAP! I want an APB for Hank Voight! Let's gather around our whiteboard and figure this shit out, shall we team? From the security footage we see that Olive shows up and tries to flee the scene once Voight's in the basement but we also see the two robbers enter through the back door. IT'S A SETUP! This is all too much for Lindsay and she needs a coffee break. Olinsky comforts her and reassures her that "he's as tough as they come". Sidenote: HOW DOES SOPHIA BUSH LOOK THAT FLAWLESS EVEN WHEN SHE'S CRYING? I DON'T GET IT. The clock is ticking and the team barely has any leads. Antonio is keeping time for us and apparently Voight's been missing for four hours now! Just when we thought the investigation was coming to a halt, one of the robbers (Ian Marks) was dumb enough to use their phone to call a family member. "Choose Voight as a target, you can't be that smart!"
Preach it Halstead.
Bad guys really do love handcuffing their victims to radiators, don't they? Hank Voight is a stubborn man but when someone in his family is in harm's way he can make an exception… they did put a plastic bag over his son's baby momma's head and threatened to cut the baby straight out of her. Despite the team's effort in finally finding them, both Ian Marks and his associate are nowhere to be seen. However, now that Voight's uncuffed and back on his feet he's ready to begin his personal vendetta despite Lindsay's pleas. Voight manages to get Olive to tell him everything that happened. It wasn't an intentional setup but it still happened! (I told you blame the shady baby momma!) Both he and Olinsky manage to find Olive's friend Joise. She and her boyfriend are met with their unorthodox interrogation methods. Lesson learnt: don't talk shit when pliers and fingers are involved. Two broken fingers later Joise decides to reveal what she knows, which is basically just that the other guy's name is Lucas. Despite their search they find nothing, it's like Lucas doesn't even exist but it's just their luck because Ian the Idiot shows up at the station expecting that he'll get arrested. Does he not know about Hank Voight and his 'special' talks? They find out that Lucas is planning to flee the state and hop on over to Canada. Everyone suits up, because there's nothing like being undercover!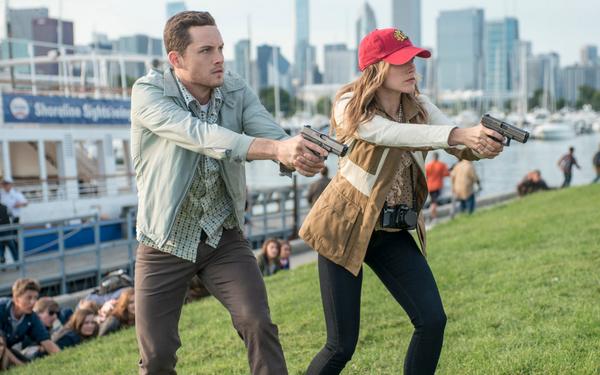 Twitter
At the bus station Lucas figures it all out because Ian looks at Antonio way longer than he needed to. So he kills Ian in front of
everyone
. Panic and chaos ensue but our team has it under control! Lindstead with a sneak attack! Halstead manages to control the situation keeping Lucas at gunpoint and Erin's got the hostage situation under control. Voight gains his possessions back, hoping everything was in there. Voight surprisingly brings back Lucas to the district, beaten but alive! (The first time that's probably ever happened, Hank Voight future grandfather... he's slightly a changed man...) Meanwhile Burgess and Roman spent their whole day looking for a high school girl who stole a police uniform and Burgess' badge. Turns out the young girl only had good intention, wanting to look like a police officer to stand to her younger sister's bully. Antonio (a very much so married Antonio) gets hit on by one of his private security client's wife's. Lindsay gets a federal job offer from a DA. WHAT? You heard me, she was offered to run her own task force for the feds but is she willing to leave her
family
? Voight is finally resting at home and his son is back from the military, they share a genuine conversation and bond over the baby. Voight reveals the importance of what was in the safe, revealing his deceased wife's wedding ring urging Justin to make "an honest woman" out of Olive. Despite getting a moment of peace, the promo for next week shows a young girl brutally murdered forcing both Atwater and Ruzek to go undercover in a prison to figure out who put out the hit. NBC's Chicago PD is on Wednesday nights at 10/9c!
Keep Up With PopWrapped On The Web!
Twitter 
SoundCloud
Facebook
Instagram
Tumblr
Pinterest
YouTube