"Avengers: Age of Ultron"  had it's time in the cinemas (and news columns) so now those superheroes can hand over the baton to the tiniest hero of them all:  Ant-Man.
The latest Marvel offering, Ant-Man  debuts in a matter of months, so we are expecting to see the usual plethora of TV trails, publicity shots and interviews from the cast as they gear up for another box office hit.
The latest images released from Empire Magazine, show Paul Rudd's Ant-Man in his teeny tiny form and the big bad guy of the film;  Corey Stoll as Yellowjacket, looking less big and more bad.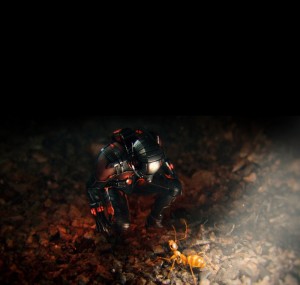 Courtesy of Empire Magazine
The final image shows Evangeline Lilly, Michael Douglas and Paul Rudd looking at a blueprint.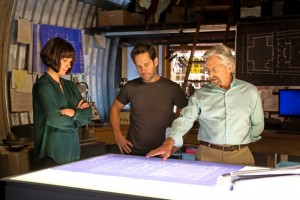 Courtesy of Empire Magazine
Marvel say  "The next evolution of the Marvel Cinematic Universe brings a founding member of 'The Avengers' to the big screen for the first time with Marvel Studios 'Ant-Man'.  Armed with the astonishing ability to shrink in scale but increase in strength, master thief Scott Lang must embrace his inner-hero and help his mentor, Dr. Hank Pym, protect the secret behind his spectacular Ant-Man suit from a new generation of towering threats. Against seemingly insurmountable obstacles, Pym and Lang must plan and pull off a heist that will save the world."
I bet it will be Absolutely fANTastic. No? Sorry.
Ant-Man is released July 17.