Kay Ziegler
Staff Writer
@Kay__Drew
Hello, lovely readers! I recently got to take a moment with Cara Quici where we discussed music, fans, and life in general! Before diving into the interview, let's take a moment to get to know Ms. Quici. Born and raised in Corpus Christi, Texas, Cara started performing at 4-years-old. During her pre-teen years she attended International Modeling and Talent Association (IMTA) Convention and also won many awards for her singing, dancing, acting, and modeling. After graduating high school, she spent four years in New York. To further her career, she became bi-coastal so she could attend Los Angeles based Oksana's School of Music. Currently, Quici has been featured in
MAXIM
and
Esquire
. Four 4 weeks straight, she was the #1 most active
independent
artists in US TOP 40 radio rotation. This multi-talented performer plans to head to Austin, TX to record her debut album, which should be out this winter. To keep in touch with her fans, she will be keeping an interactive video diary and as a treat, she'll be releasing a new radio release! So exciting!
When did you first decide to get into entertainment?
There was never a specific "moment" I decided to be in entertainment. I am an artist at heart and need to express myself. It was always natural and the only choice.
What has been your most memorable fan meeting?
My most memorable fan meeting was in the middle of Times Square, NY, literally! I went to go meet a fan named, Kyle Kelly, who traveled all the way from another state to meet me. Since he was such a dedicated fan, I later featured him in my music video for my single, "Fight".
http://youtu.be/lhIUgngAGV8
My fans are so amazing. They have named themselves the #Carers because they care, and I LOVE them so much! I could not do what I do without them.
Is there any acting roles you would love to play?
Oh, there are so many!  I am in LOVE with Broadway and it is a dream of mine to one day be in a Broadway production in New York.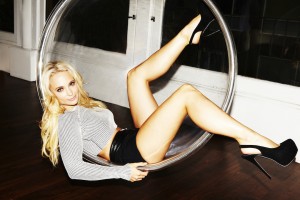 Photo by Antoine Verglas
Where do you get the inspiration for your music?
The inspiration for my music comes from my experiences in my own life. I have so many voice notes in my MAC because I am constantly recording melodies and hooks I come up with in my day to day life.  I later combine my own personal experiences with the melodies to create the storyline or message of the song. Growing up, I loved to write poems and stories; so writing music is an extension of that.
When you're not diving into creative actives (IE music or television), what do you like to do you enjoy doing in your spare time?
I love to hike, sunbath at the beach, or exercise.
Do you have any hidden talents? If so, what are they?
I am also an actress, which is why I love Broadway, theatre and film so much.  I'm looking forward to landing that perfect role where I can hone both my singing and acting skills into one.
If a genie gave you 3 wishes, what would they be?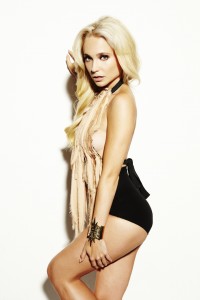 Photo by Antoine Verglas
Hhhmmmm….  only 3?  LOL, just kidding. Okay, my 1st wish would seriously be for World Peace. With all the brutal fighting going on in the world between various countries I really wish it would end, especially for the sake of the children and young people in those countries. My 2nd wish would be for school shootings and shootings in general, in our own great country the USA to STOP.  My 3rd wish would be for my family to continue to have a happy and healthy l
Finally, what does freedom mean to you?
Freedom to me means a DEMOCRACY where citizens vote to elect their leaders and shape laws.  To me, Freedom also means a life where people have the right to explore and choose what career path, passions, religions, relationships, ideas, etc. they choose without government interference. We hope you enjoyed getting to know the lovely, Cara Quici with us! Be sure to check out all her Social Media Links and follow her! *
twitter.com/CaraQuici
*
facebook.com/OfficialCara
*
youtube.com/CaraQuici
*
instagram.com/CaraQuici
*
www.CaraQuici.com
Keep Up With PopWrapped On The Web!