Hailing from the streets of Detroit, rising femcee Christina Chriss has been doing the city proud with her sick flow, enviable confidence, and steely determination since she hit the scene.
As the front woman of pop-rock band Kaleido, Christina Chriss has utilized her larger than life persona to great success. Coupled with her versatile and evocative voice Chriss has led the band through a handful of successful releases. As we move into the new year though, the "Love & War" siren is going to be taking things one step further...
How is she doing that? By pursuing a solo career alongside her work with Kaleido. Earlier this year Christina Chriss made her solo debut alongside Trick Trick on "From The Way," a track that resonates with pride for her hometown and brazen hip-hop and rock infused style.
Since the release Christina Chriss has attracted the attention of established rap acts including none other than French Montana and Justin Bieber. More new music is coming as we move into the second quarter of 2016, and there is no stopping the spitfire songstress!
We at PopWrapped had the opportunity to chat with Christina Chriss about her solo debut on "From The Way," experiences recording, what to expect in the year to come, and how she balances everything! Read on below to check out our exclusive interview!
PopWrapped: Can you talk a bit about what made you decide to pursue a solo project on top of working with Kaleido?
Christina Chriss: I wanted to show the other sides of myself as an artist outside of Kaleido. Style wise, I wanted to do something different and incorporate my multiple influences musically. 
PW: How do you balance solo work and working with Kaleido? I honestly have NO idea how you can fit it all in!
CC: I'm still trying to figure that out, lol! I love working and writing music so I just let it flow naturally. So far, so good. My band is my family and team so they're really involved even with the solo stuff. Style wise the music is different, but I still perform with them live when doing the solo music.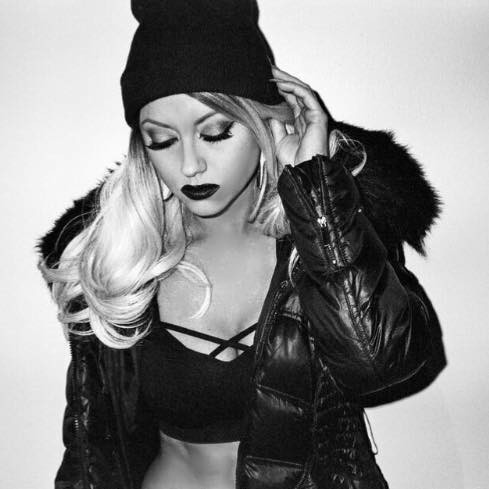 facebook.com
PW: What was it like recording your work as a solo artist? Did you find that the process was different than when you're working with the rest of the band? 
CC: It was fun. I worked with the producer Detail on all the solo music, and him and I hit it off. My band was with me for most of the process, but it was a different process working with a producer, the direction, stylistically and musically. Good vibes and lots of fun. That's what it's all about for me.
PW: Do you have a favorite song on the release?
CC: I really like all of the songs and I'm excited to release them, but if I had to pick my absolute favorite it would be the song "Can't Find Me." There is a really funny story behind the song, but I'm going to save that for when we finally release it! 
PW: "From The Way" is such a strong debut, and it really resonates with a sense of pride for your home. From the first listen I was impressed by how honest the track is in terms of how you discuss the positive and less positive aspects of your city. Personally I got a sense of the city's resilience while listening to the track, but I was curious what you were thinking while writing?
CC: Thank you! I've got mad love for Detroit. The song really does tell a story that other people, cities and many other "ways" can relate to. Nowadays you can't turn on the news without seeing a murder... Thus the "see a dead body every single day" etc. Growing up in and around Detroit has certainly molded me into the person and artist I am today. "From The Way" is the first glimpse into who Christina Chriss is, and there is lots more to come. 
PW: "Hell Yeah We Fuck" featuring French Montana, which got a nod from Justin Bieber as an "instant smash," is set to be your second single. Can you give us an idea of what to expect? 
CC: Expect to have it stuck in your head!!! What's not to love about smoking and fucking?! lol P.S.: What up Bieber? miss you LOL 
PW: You've talked about the eclectic music scene that exists in Detroit and how it's helped you really develop your own unique sound. Your solo material is definitely more hip-hop oriented, but there seems to be a slight rocker edge to the production on "From The Way." How would you describe your personal sound?
CC: I grew up listening to rock, hip-hop, & pop. Throughout my career there have been people in my ear "You need to pick a style, pick a lane," and I'm just not going to do that because that would be me NOT being myself. I am all of these styles in one and they're all going to come out in the music. I've been lovingly calling it trap-pop-rock. lol
PW: Is there a rapper that has been most inspirational to the development of your personal style?
CC: Hands down, Eminem. He's always been my favorite. He's incredibly inspiring and I feel like I have a lot in common with him as far as coming up in Detroit and a lot of the stories he has told about his personal life. Mad, mad respect to Shady. 
PW: Can you take us through your writing and recording experiences a bit? What is it like working in the studio?
CC: My best work comes with great vibes & comfortable surroundings. I love being in the studio. I love creating. 
PW: Kaleido's most recent single "Love & War" featured a collaboration with Alien Ant Farm's Dryden Mitchell. What was that like working together after spending so long on the road together?
CC: It was really fun and super chill. We wrote & recorded the song at Mike Cosgrove's (AAF drummer) house in Riverside, CA. I think it turned out as rad as it did because of how close we all became touring together. They're like our big brothers. We're like one big, dysfunctional, hilarious family. Super awesome dudes. We kicked it, partied it up a little bit and BAM! "Love & War" happened. 
PW: Correct me if I'm wrong, but this year you're set to release a solo EP as well as a release with Kaleido. What was it like developing your solo EP and Kaleido's EP simultaneously? 
CC: Just dropping singles of my solo tracks for the time being, but Kaleido is set to release a new EP this spring. It's really a dream come true being able to do both simultaneously. I love both, it's totally ME, and I'm happy I can get it all out. 
PW: Did you ever find that you had to switch "faces" or get in a different state of mind between recordings?
CC: Nope. I just do me and let all of my personalities come out. I have a lot of different sides and rather than just tell you about them, I'm looking forward to people meeting them through my music. 
PW: What do fans have to look forward to with all the new music that you have coming up this year? You just wrapped up a tour alongside Alien Ant Farm, but do you plan to hit the road again anytime soon?
CC: Lots of touring! New music videos! Kaleido is set to tour with Living Colour in April, and we're currently lining up the rest of our summer as far as hitting the road. I'm also opening for Kesha in June as well, so stay tuned to my socials for dates and news! 
PW: Speaking of touring, you have really hit up quite a few hot spots opening for acts or performing on festivals. What are your favorite things about being onstage.
CC: Being on stage is my favorite thing in the whole world. That is me in my absolute element right there! I am 100% me and at home as soon as I step foot on stage. I love the energy and connection I feel with my audience & my band. 
CC: I love performing. I love being able to express myself creatively in my music. I love touring. So I guess you could say my favorite thing about what I do is in fact just doing what I love every single day.
PW: Do you have any parting words for your fans?
CC: There is so much music coming your way! I cannot wait to share it with the world! Hope to see you in a city near you soon!
Huge thanks to Christina Chriss for taking the time to chat with us!  We're looking forward to new music from Kaleido and continued solo releases!