Jared Pelletier is a Canadian director from Aurora, Ontario. He has directed for Machinima including the popular series Omega and his short film The Collision was shortlisted at the Cannes Film Festival when Jared was 18. Recently he has finished directing a virtual reality experience for the horror series Slasher. The app is currently available on Apple and Android app stores in the US. It is coming soon to Oculus Rift and app stores in Canada to follow along with Slasher's Canadian release on Super Channel.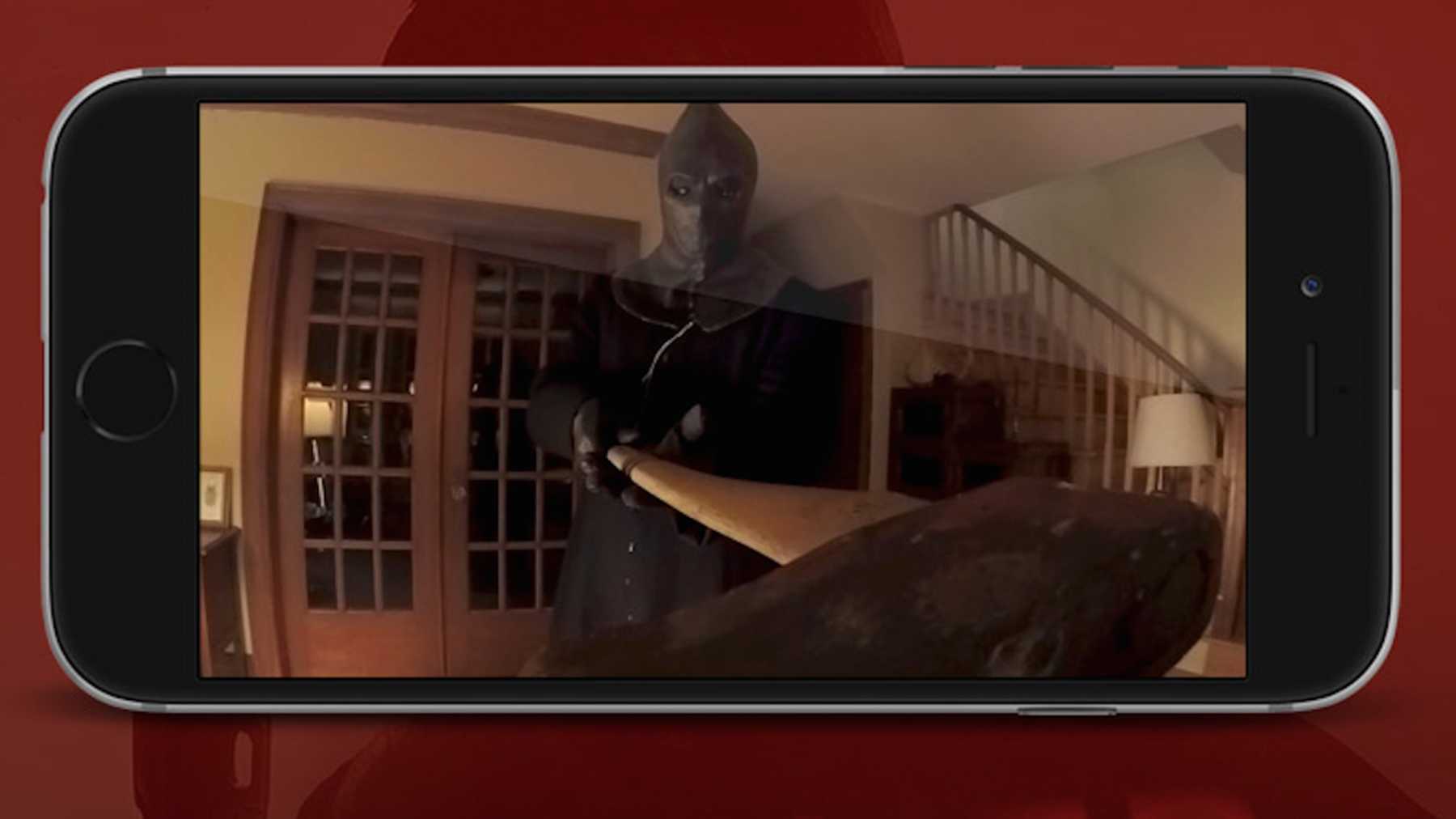 chillertv.com
Jared took some time out of what sounds like a busy schedule, to discuss the Slasher VR app and his many upcoming projects. Read the full interview below.
PopWrapped: Did you discover any challenges directing for VR as opposed to traditional mediums?
Jared Pelletier: It's basically an experimental format, especially in live-action, so you're frequently hitting snags on top of common logistical challenges. Setting up any VR shot is incredibly involved, as we shoot everything multiple times in order to give our post-production team the content required to stitch a 360 degree scene together. I remember one scene in particular where we needed to get a clean plate, a background plate with all of our background performers, and then we'd shoot with our talent - for a basic dialogue scene! The process became even more complex when we involved a steadycam. You're sort of turning everything into a complex visual effect, which is initially intimidating but then a lot of fun.
Despite the challenges, I can't say enough about the support from Shaftestbury/Smokebomb and the Bell Fund. It's absolutely phenomenal that Bell is getting behind innovative projects like this one and next gen media projects in general. They're effectively investing in the future of media in Canada and it gives filmmakers like myself an incredible platform. I can say the same for NBC and Super Channel, they're remarkably forward-thinking and they're really raising the bar with projects like this one.
PW: VR has been popping up more and more at genre events and film festivals. What excites you personally about VR?
JP: I remember trying it for the first time at Shaftesbury/Smokebomb, the studio behind our project, and I was immediately blown away by how immersive the Oculus was. VR allows creators to craft stories in a completely different way, and I'm so excited to develop more content for the platform. I'm working on another VR project now, and I'm developing more VR concepts for Shaftesbury/Smokebomb, and it's just so exciting to explore the possibilities of the format and it's a lot easier to be more ambitious about new ideas having completed Slasher.
That's actually a before shot. Trying to bring these sunglasses into the mainstream. #Slasher VR app is amazeballs https://t.co/kLR64au59l

— Steve Byers (@TheSteveByers) March 23, 2016
PW: Steve Byers, star of Slasher, described your VR experience as "amazeballs". That has to feel good. The experience for Oculus Rift was demoed at Toronto Comic Con two weeks ago. It is always interesting to see how people react to VR, particularly one so immersive and scary as Slasher VR. Did you witness any strong reactions to the Slasher experience?
JP: It's definitely great to know the project is being well-received! I usually have a sense of what's working or not on set, but this project was different as we had no real monitoring system, so the cameras would roll and our crew would hide as the actors performed. I was so excited to see the stitched dailies in Oculus, as it was the first moment where I was able to witness that everything worked out. I think the strongest reaction might've been my own sigh of relief, or the collective relief of our producers.
PW: You are also directing Seraphim, a sci-fi mini series written by John Cabrera. When and where will that be available?
JP: Seraphim is just getting ready to shoot now; we were scouting yesterday, and I just talked to our casting director! Release date will likely be announced in the coming months, and the US and Canadian distribution platforms are still being determined, but it currently has a tentative release scheduled for later this year on Canal+.
PW: I understand you have a few other projects in the works, what can you tell us about them?
JP: I'm currently developing a time travel property called It's Yesterday, which explores the first manned mission through time. I've always wanted to find a way into that genre and I love the lo-fi approach of Shane Carruth's Primer, so I'm really excited about this one. If all comes together we'll be shooting mid-2017. I also have a project right around the corner called The Last War, which is a co-production between Canal, Rockzeline and Frostbite Pictures. It's an alternate history sci-fi exploring an alien invasion at the tail end of World War II.
PW: Based on the projects you are involved with, you seem like a fan of sci-fi and horror. What attracts you to these genres?
JP: I find sci-fi so appealing as it allows me to build out worlds completely from scratch, and I love how sci-fi ideas so often function as a mirror to our own sociopolitical challenges. I also absolutely love great design in film; I own a collection of sci-fi movie art books, so the design challenge of sci-fi is constantly interesting. I think it's so easy to become a derivative filmmaker working in either of these genres, so I'm always working to develop a unique voice.
Jared is also working on another supernatural horror series called Inhuman Condition. The official synopsis reads:
In a world where the supernatural is known but scorned, werewolves, zombies and beings with supernatural afflictions attempt to live normal lives in human society. Many are closeted. Few are accepted.
To help them fit in, and to navigate the problems in their lives, they come to Dr. Michelle Kessler. A therapist by trade, Kessler is equal parts strong and empathetic, providing her patients a safe space to explore and understand themselves in a world where losing grip could put their families at risk. Self-hatred, alienation. The burdens of carrying impossible secrets. The struggle to feel human.
PW: In this world, monsters exist but are scorned and not accepted by society. The doctor helping them may not be a monster, but she has experienced similar alienation and struggles. Can you tell us more about her character and the importance of her being queer?
JP: I was really lucky to be given the opportunity to direct Inhuman Condition, and these themes are so deftly explored by our writer, RJ Lackie. Michelle Kessler is incredibly complex and we concurrently follow her personal and professional struggles. The studio, also a Shaftesbury/Smokebomb production, has such a phenomenal slate of topical, progressive content, and they've really prioritized giving characters like Kessler a platform and a voice to reach an important demographic. As a creator I feel that I have a responsibility to accurately represent our culture on the screen, with racial diversity and sexual orientation being especially critical. As I discussed earlier, genre content like this affords me the opportunity to hold a mirror up to ourselves, and Inhuman Condition is perhaps the strongest reflection of society today.
PW: Being Canadian, you are involved in lots of Canadian productions. Why is it important to support Canadian made productions?
JP: There's this stigma attached to a lot of Canadian productions, and I think that really needs to be lifted as it's such antiquated thinking. A ton of incredible content is being developed here and studios like Shaftesbury/Smokebomb are constantly exhibiting this. By supporting Canadian content you're supporting Canadian creators, and you're allowing them to continue the development of new material without going south of the border.
PW: Let's conclude with a simple question. What is your favorite Canadian made film or TV series?
JP: Enemy, The Dirties, and Polytechnique. I'm a huge Denis Villeneuve fan and I pretty much love anything he makes.
Big thanks for Jared Pelletier for spending so much time chatting with me; sounds like you have a lot going on. If you want to get updates on all Jared's projects, follow him on Twitter @Jared_P. Don't forget if you live in the US, you can experience Jared's handiwork with the Slasher VR app on iOS and Android.