Xenia Ghali is an up and coming producer and DJ from Greece, currently based in New York and signed under Pitbull's Mr. 305 Records. Being one of the few female artists of her kind in the industry, she is currently making an impact with her amazing Katt Rockell-assisted single, "Broken". Since we have already introduced this promising young lady to our readers, PopWrapped is making sure you get more familiar with Xenia Ghali through this little interview. Let's go!
PopWrapped
: Hey Xenia, how are you?
Xenia Ghali
: Hey! I'm great! Thank you so much for taking the time to chat with me.
PW
: In what phase are you right now, on both personal and artistic grounds?
XG
: At the moment I am very inspired and extremely focused on my music and career. I am consistently working hard and I am excited about a lot of things to come this year. I am blessed with the support of my family and friends, which is one of the main sources of my motivation. My work involves a lot of traveling, so I make it a point to spend time with the people I love as much as possible.
PW
: You're a female producer and DJ and the industry is really lacking in artists of your kind at the moment. How do you feel about it?
XG
: It is true that producers and DJs are often male and I would really love to see more women doing what I do. The industry definitely lacks in women who produce and DJ and I hope that I as well as others, are able to motivate more females!
PW
: Let us know about the best and worst parts of your job right now.
XG
: As cliche as this may sound, there are no bad parts of my job! Even sacrifices such as not being able to spend as much time as I would like with the people I love and often not having enough time to sleep are all part of being passionate and driven by what I do.
PW
: When did you realise music was what you wanted to do?
XG
: As a child, when I was asked what I wanted to be when I grow up I always answered two things; a musician or a professional athlete. Music was always my passion, as I started playing classical piano and flute at the age of 5 and later picked up the guitar and drums. At age 15 I formed an alternative rock band in high school and began songwriting. That was when I decided that I wanted to study music, composition and producing. I loved creating music! I received my Bachelor's degree in the UK in Music Composition and Production. During my studies in the UK I began DJing with vinyl records and turntables and performed at various local clubs. One thing lead to another and I started spinning at clubs such as the Ministry of Sound in London and toured around various countries in Europe. To further my studies in music, I received a Master's degree in Music composition and Production from New York University. Music has always been my passion and now it is a dream that I am able to make it my 'job' as well.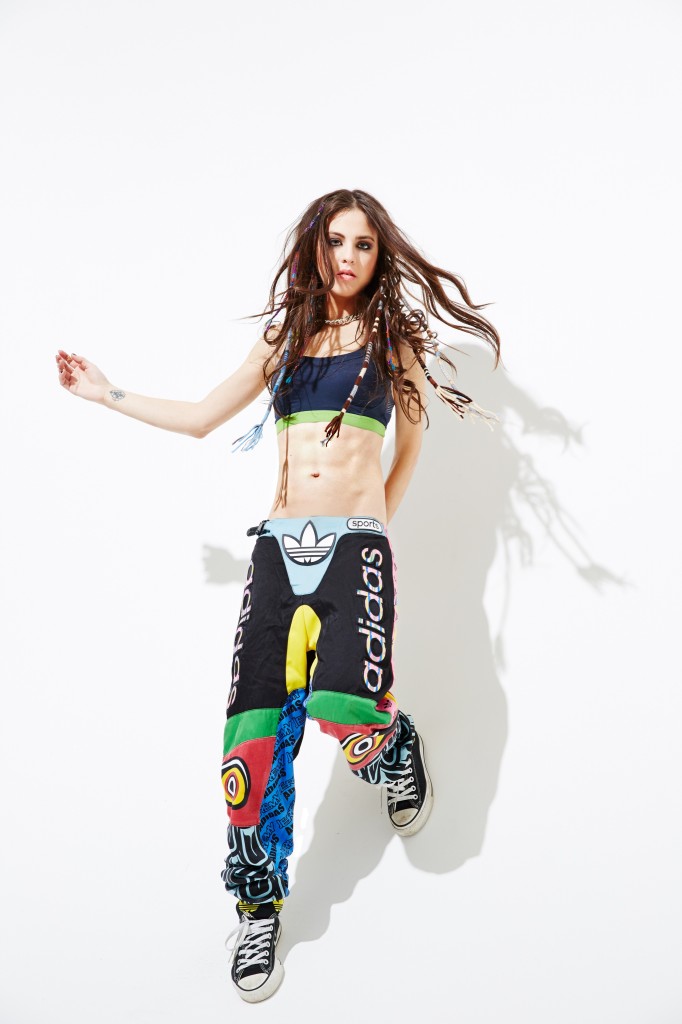 Courtesy of Xenia Ghali
PW
: Which four words would you use to describe your sound?
XG
: Melodic, Fusion, Versatile, Musical
PW
: In what ways would you like to further experiment with your music from now on?
XG
: I love collaborating with other musicians and artists of all styles and genres of music. My favourite thing is being in a room with another musician who will open my mind to sounds and ideas that I wouldn't ordinarily do myself.
PW
: How does the creative process work for you? Do you always know what you're going for or simply let things happen?
XG
: I let things happen. That is why I write and produce all sorts of music ranging from electronic-based dance music to scoring for orchestral strings. I go with what feels good.
PW
: Are there any artists that have influenced your own music? Let's say, give me a top 3.
XG
: Even though my music may be different to some of the artists that have influenced me, they have been great inspirations and role models for various reasons, which consequently has affected both my music and me as an artist. Wyclef Jean, who I recently had the honor of collaborating with, is my mentor and is constantly inspiring me, teaching me and developing me in all aspects of producing and musicianship. Pitbull is the definition of a star, an incredible entertainer and an extremely accomplished artist who for so many years continues to be on top. Despite all his success, his consistent dedication, work ethic and humbleness is a true inspiration to me and what makes him a true artist. Daft Punk are definitely a huge influence as well. I have been following and studying their work for many years and they have opened my mind to how musical and complex electronic music can be. Everything ranging from their early work, to their score for the 'Tron' movie, to their more recent tracks, has enabled me to cross boundaries in my own music.
PW
: Tell us a bit about signing with Pitbull's Mr. 305 and working with Mr. Worldwide himself.
XG
: Words can't describe what an honor it is that Pitbull supports and believes in me. After having heard my work, seeing my performances and my vision, Pitbull signed me to his label Mr. 305 during the summer of 2014. We released my first single "Broken" featuring Katt Rockell along with a lyric video and now I'm working on my future releases. Pitbull is an incredible artist and has shown me complete support.
PW
: "Broken" was originally recorded in Greek. How come you chose it to be an international single as well?
XG
: "Broken" was actually not recorded in Greek originally. The song was originally recorded in English with Katt Rockell (as released on Pitbull's label). Prior to having released the song with Katt Rockell in English, a Greek pop star heard it and was interested in recording it in Greek as well. The version in Greek is actually a little different too, with a more 'European' flare to it. The reason why it was released in Greek first was only due to the fact that it took longer to schedule the release date in the States.
PW
: What's next for the track? Is there a music video on the way?
XG
: We shot a lyric video for "Broken" which I am extremely proud of. I am originally from Greece and have an extremely talented creative team that I work with from there, regardless of where I am. The video was shot, directed and produced in Greece and is highly fashion-oriented, aesthetically and conceptually original and has received very positive feedback. It would be hard to get a music video that tops that but I wouldn't be opposed to trying it down the line! With regards to the song, it has done extremely well on the US and International dance charts, it is receiving a lot of radio airplay and is still moving!
PW
: So where will you take it from here? Is there a full-length release in the works?
XG
: I am preparing to release my next single with Wyclef Jean called 'Get Dirty'. I am very excited for you to hear it! I am also in the studio every day working on other releases (and in the future, an album) for myself, producing music for other artists and also preparing for live shows and touring.
PW
: Do you have any dream collaborations in your mind for the future?
XG
: There are too many to even mention!
PW
: On a final note, what would you like to say to your fans?
XG
: I want to thank everyone who has shown me so much love. Knowing that I can touch and move people through my music and live shows is really what it's about. It means the world to me that people support what I do and I will work everyday to make those people proud. Before we call this a wrap, we here at PopWrapped would like to thank Xenia Ghali for taking the time to do this Q&A and hope to hear more from her in the future. Make sure to stay tuned with her on
Facebook
,
Twitter
,
Instagram
and
Soundcloud
.
Keep Up With PopWrapped On The Web!