Most of us first got to know Drew Ryniewicz from her time as a fan-favorite on the first season of The X-Factor USA. The songstress has been through a lot since then and is now about to get things going, with new music on the way and "Ugly" serving as the first sample. While she's at it, Drew took the time to answer PopWrapped's questions, so here's everything we discussed.
PopWrapped: Hey Drew, it's nice to be doing this Q&A with you! To begin with, what have you been up to ever since Τhe X-Factor and Hello, It's Me?
Drew: Since The X-Factor, I have been in the studio, writing hundreds of songs. Recently, I started performing and I've been touring all around the U.S. I've been working on this upcoming EP for a few years now, waiting for the right moment to present it to the world, I want it to be perfect.
PW: From the significant sound of your covers to "Ugly", you've definitely come a long way, and it seems your sound is kind of different on the latter. How did it come to that?
D: I write music to fit almost every genre, but there was always something missing. As I started performing a lot in this last year, I would get on stage and I'd know how I wanted to feel when I sang, but that I hadn't felt it yet. It was back to the studio for me, as I finally knew the ingredients to the new sound.
PW: Now that "Ugly" is out, what's next? Do you plan on further promoting the song with a music video and/or a few performances perhaps?
D: "Ugly" was the song to get people directed towards the music again, the song to say "I'm back". There are six songs on the EP I plan to release, and another single on its way! I plan to hit even harder with the music coming.
PW: The track has such an inspiring and empowering message. Can you tell us a bit about the story behind it?
D: When I wrote "Ugly", I wrote it with the intention of letting go of opinions. I wanted to put out a message, to leave opinions in the opinion box and leave the proof where it should be, in who I choose to be, not what they tell me I am. I wanted to write something with a good, uplifting message to really speak to the hearts of people, while still including sounds that are familiar and trending.
PW: I know there's a brand-new EP on the way - congrats! Can you reveal any details about it? When is it coming out?
D: The EP is coming VERY soon, It's right around the corner. It holds a real piece of me in it. I allowed myself to be vulnerable in the creative process, I share a lot about recent heartbreak and the trials life threw me.
https://open.spotify.com/track/3Edn8340xMG8aWRKHEjaQy
PW: Sonically and lyrically, which direction did you take with it? Can you reveal any producers or songwriters that you worked with?
D: Sonically, there are a variety of dark, ethereal, electronic sounds to compliment my voice while still being pop. The lyrics of this EP are the real catch, that's where the story lies; I left my heart very uncovered in these lyrics. I want to connect with people, I want them to feel home when they hear that I've been where they've been. I worked with some incredible producers and writers, I'll let you in on the writers of my next single, which are my dear friends Skyler Mones (producer) and Elle Vee (co-writer), and we got the song mixed by 13-time Grammy-Award-winner Ken Lewis.
PW: I suppose there are plans to eventually release a full-length album, right? How is the creative process for that coming along?
D: Yes, a full album is the next step. The great part about being a songwriter is that you never stop writing. I have so many songs I'm already writing for that next chapter. It's important to never stop creating.
PW: Roughly speaking, when do you expect to have your debut record ready for release?
D: Within months, you will have more music from me, I can't say when yet, because honestly I'm not exactly sure of the time or date, but it is VERY soon.
PW: Have you collaborated with any other singer on the EP? Can you reveal a couple of your dream collaborations?
D: Not on this EP, but I would so love to collaborate with Macklemore, or Ed Sheeran, I have a list of hundreds - not gonna lie. It's a dream of mine to have Pharrell Williams produce something of mine someday, and to have Sia write something for/with me.
PW: What kind of music are you listening to at the moment? Can you name a few songs/artists?
D: I am loving Halsey right now, what a songstress. She's so creative and she's slaying live right now; "New Americana" is a blast of a record. I also love Ellie Goulding's new record "On My Mind"; what a sassy, flavorful song.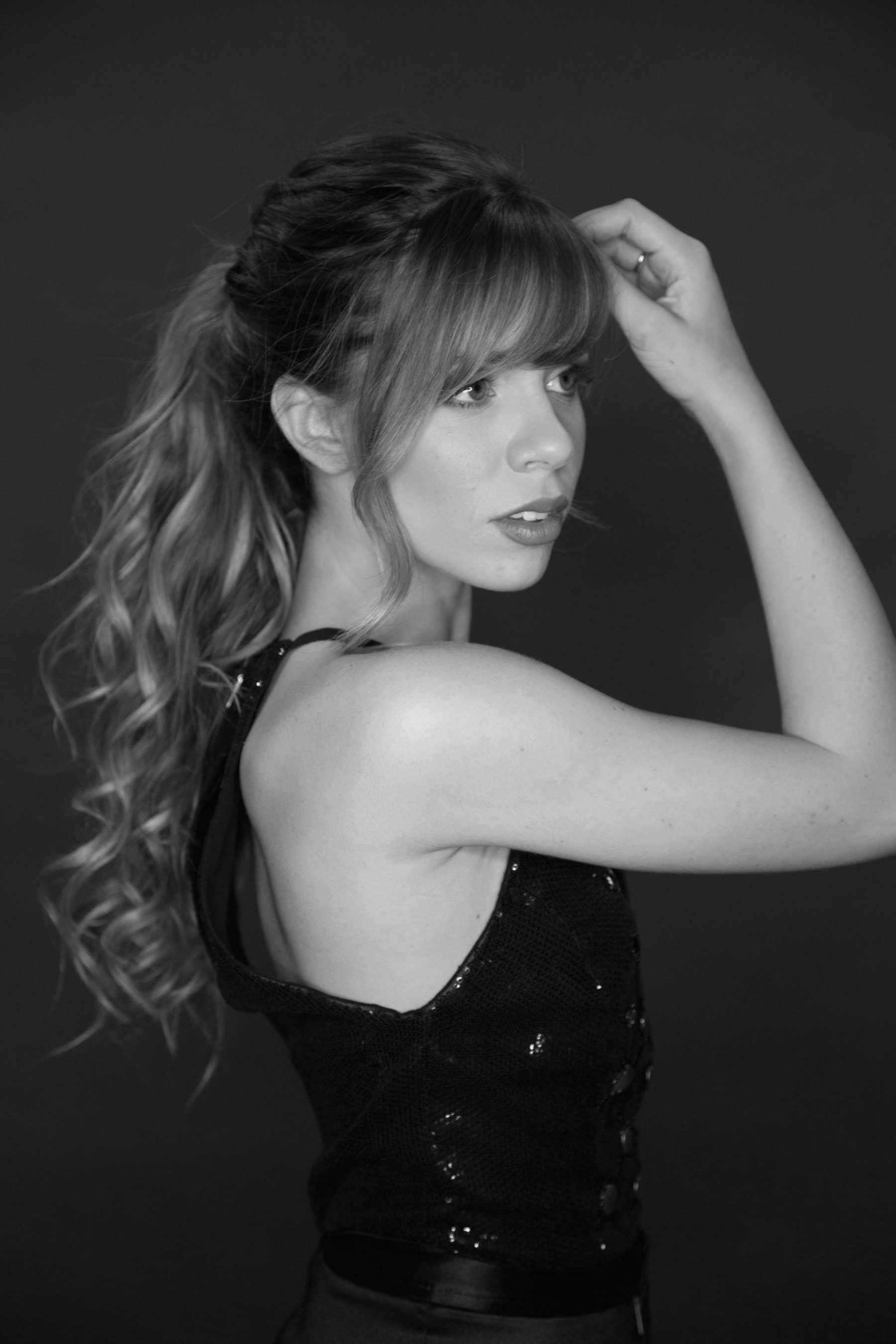 Courtesy of Drew Ryniewicz
PW: Do you recall which album was the first you ever owned?
D: The first album I ever snuck into my room as a kid was Madonna's Music. I loved how much confidence she exuded through her music around that time. The first album ever gifted to me was a Nora Jones CD from my dad. I remember listening to that CD every day as a little girl. Nora's voice really helped me find my own.
PW: From your personal experience, what's the best and worst thing about being an up and coming artist in today's music industry?
D: The hardest part is gaining traction and getting people to notice you. The best part of being an up and coming musician is that people are always looking for something new, something fresh, and it's my place to find that sound and get it out there as a new artist.
PW: At this point, how do you feel about your time on The X Factor? Given that you could, would you advise your 14-year-old self to audition?
D: The X-Factor was the perfect platform for a small town girl who wanted to be heard. I don't think it's for everyone, you might wanna gain some thick skin because reality TV can be brutal, but it was also the time of my life. I found myself musically through that show, and I shared it with lifelong friends.
PW: While on the show, you got to join Justin Bieber on stage. How was that feeling?
D: Four words: "What a total babe".
PW: On a final note, what would you like to say to your fans?
D: For those of you who have stuck by me through all of this, you are a dream, a true blessing really. For anyone just joining, buckle up, it's gonna be a crazy ride, but I can't imagine sharing it with anyone but you.
I would like to personally thank Drew for doing this interview with us and hope she has the long career she deserves. You should make sure to keep up with her on Facebook, Twitter, Instagram, and YouTube, as well as buy "Ugly" on iTunes.