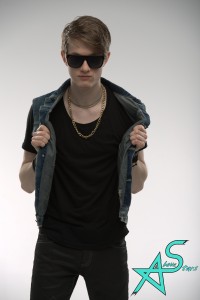 Courtesy of Above Stars
Ben Patton
Senior Manager
@CincyBen
Meet Above Stars front-man, singer/songwriter Miika Weiman, who is currently making his home in good 'ol Nashville, Tennessee. Miika comes from an extremely musical family; his grandfather was a composer and cellist, while his father is a professional conductor and violinist. Miika began his musical journey when he was 6 years-old. He started out playing the violin, but after his teacher refused to continue teaching such a rowdy kid, Miika moved on to the cello at age 7. By age 8, he was playing the drums and at age 9 he reveled in the wonders of his very first stereo system. When he turned the ripe old age of 21, Miika was already delving into the world of pop music with influences ranging from classical and Christian artists, to the pop sounds of Blink 182, David Guetta, Owl City, The Ready Set and *NSYNC. As his musical tastes evolved and musical influences became more fresh and diverse, Miika was able to create a unique sound all his own. After releasing his first CD,
What Do You Have To Lose
, Miika moved to Nashville to further pursue his music career. With the help of his publicist Rob Crowe and music producer Kevin Gates (Cady Groves, The Ready Set) Miika launched a Kickstarter campaign and began working on a brand new album which will "hopefully be out very soon," Weiman says. Above Stars just released a brand new EP on August 2
nd
titled,
If The Sun Burned Out
which includes the infectious first single, "In Love With A Dream". The single is an ElectroPop masterpiece, with a hook that's guaranteed to keep it at the top of your summer playlist. [soundcloud url="https://api.soundcloud.com/tracks/161685284" params="auto_play=false&hide_related=false&show_comments=true&show_user=true&show_reposts=false&visual=true" width="100%" height="450" iframe="true" /] "The song was inspired by a girl I liked at the time. It's talking about how guys' behavior changes when they are around a girl they really like. They get impatient and end up staying something really stupid," he says of the inspiration for the track. "I liked her and told her over text, and then felt really stupid. Then I realized other guys do the same thing and we all wish we hadn't, but it's too late." If you're all in love with his first single like the rest of us at PopWrapped, be sure and check out the follow-up track "Lose Yah Mind" featuring Lancifer. You can get the entire EP on iTunes for less than $6.00, so I suggest you go ahead and
CLICK HERE
and purchase it. Also, be sure and check out Above Stars online and follow him like your life depends on it: Twitter:
@AboveStarz
Facebook:
www.facebook.com/AboveStarz
YouTube:
www.youtube.com/MAW9
Instagram:
@AboveStarz
Stay tuned to PopWrapped for more from Above Stars; a full length album and acoustic EP are in the works!
Keep Up With PopWrapped On The Web!