Grace Pettis is one of those artists who makes music look easy; she writes, sings, and plays with a beauty befitting her name. Recently, she wrote and performed a song for the Dallas Museum of Art (DMA) for their Arts and Letters series, a unique collaborative project which pairs music with paintings and other pieces of art in the museum.
Grace comes from a very creative family, including her father, Pierce Pettis, who is a critically acclaimed songwriter and performer who penned the Garth Brooks hit "You Move Me." In her short career, Grace has already lived up to her birthright, winning numerous songwriting awards (Kerrville New Folk Contest; NPR's Mountain Stage NewSong Contest, etc.) and garnering praise from critics, fans, and industry alike. What sets her apart in her talented family is her distinct, unaffected voice, described as a "wide open prairie, full of waving golden grains before menacing, dark thunder clouds" according to, Sirius XM Program Director, Mary Sue Twohy.
Grace was kind enough to sit down for a chat with PopWrapped and talk about her influences, her songwriting, and her future plans.
PopWrapped: Firstly, how would you like to be introduced to all our readers? What should they know about you?
Grace Pettis: Hmm ... Good question. I'm from the northeast corner of Alabama near the Georgia and Tennessee borders, from a town called Mentone on Lookout Mountain. My dad still lives there in a log cabin, when he's not touring the country, and writes some of the most brilliant, heartbreaking songs in the country. My mom is an English professor and poetry scholar at the University of Limerick in Ireland. I have three brothers -- Rayvon is a Captain in the Alabama National Guard and is a Steve Earle/Drive-By Truckers edgy country-type songwriter. He lives in Nashville, but his stuff comes off more like poetry or literature than your average Nashville song. George is my younger brother. He's one of these people that oozes creativity. He's talented to the point of annoyance. He picks up an instrument, and, a few hours later, he's written an album with it. George's stuff is melody, groove, and arrangement driven -- I guess you would call it "alternative" or "indie"? -- but it just sounds like good pop music to me. George has a voice like Paul McCartney. He lives in Olympia, Washington. We also have a baby brother, Owen, who lives with my stepmom and dad in Alabama. He's only 11, but he's already learning the fiddle. As for me, I'm in the middle in a lot of ways. My music lives somewhere between Country, Americana, Folk, and Pop. Sometimes I lean toward contemplative, thoughtful writing that you have to take seriously to appreciate, but I also like writing fun, up-tempo pop songs whose only purpose is to make somebody's foot start tapping. So I feel sometimes like I'm somewhere between Rayvon and George musically. I've spent a lot of my life obsessed with songwriting, but, these days, I'm trying to learn how to be a performer.
PW: Growing up in such a creative environment, was it hard for you to establish a voice distinct from the rest of your family?
GP: Not really. We all appreciate what the others do, but the truth is that we're all basically giant egos walking around on legs. We spend most of our time in our own little creative worlds. We're influenced by each other, but, at the end of the day, we all do our own thing. We all come by it honestly. Rayvon, George, and I grew up understanding in a way that most kids don't that music wasn't a smart career choice, but we all ended up doing it anyway. I think that's because there's some part of us that feels like it has to make music. And (not to get too philosophical with it) that's the same part of each of us that necessarily finds its own voice. The creativity exists without an endgame -- just for the sake of itself. That's not to say that we don't all need encouragement and support or that we don't have crippling low self confidence at times. I think all musicians do. And I do go back and forth with comparing what I do to what they do, but the creative urge always wins out.
PW: Speaking of family, you seem to be pretty close with yours; how much does that support system help you to continue creating art?
GP: I am close with my family, but we don't always get along. My brothers and I fight all the time -- just like when we were kids. But, yeah, at the end of the day, I think we do support each other. We get each other gigs sometimes, and we go to each other's shows when we can and buy/help make each other's albums. The main thing is that, even if we don't understand each other's music as much as we should, we at least understand that we all make music. Most musicians grow up in families of non-musicians, and they feel like odd ducks. But we're all odd ducks. So that makes it easier. If Owen grows up to be an accountant or something, it will be awesome. But he'll be the weird one in our family.
PW: At what age did you pick up your first instrument? How many instruments are on your CV today?
GP: I'm not like George -- I don't just pick up a million instruments. I've always been led by the songwriting. Instruments are very practical for me. They're just a means to an end: getting to and framing the song. I tend to stick to acoustic guitar. I started on piano at age 8 or 10 or so, and I've tried to pick up an electric guitar from time to time, but I always seem to gravitate back to my acoustic guitars. I picked up a guitar for the first time when I was about 13 or 14 and was moving from my mom's house (where there was a nice piano) to my dad's (where there wasn't). So even that was a practical decision -- guitar was portable and easy to write with.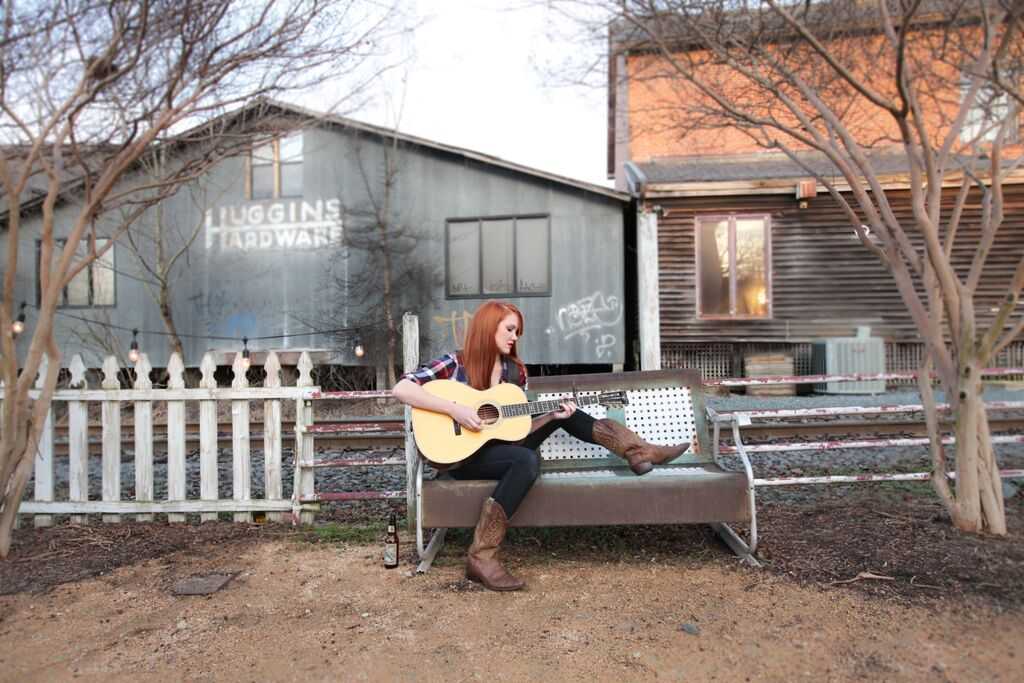 Heba Salem Photography
PW: What musicians would you consider your greatest influences?
GP: Probably my dad and brothers. But also: The Beatles, Aretha Franklin, Joni Mitchell, Loretta Lynn, Lauryn Hill, The Indigo Girls. And about a million others.
PW: Whose music can you not stop playing right now?
GP: Like anybody else with a pen and guitar, Jason Isbell. That Southeastern album is on constant repeat right now. And I've been listening to a lot of Dolly Parton lately. She's my hero --personal hero and songwriting hero. She put her entire hometown to work and wrote "Jolene." So ... yeah. Best legacy ever for a girl with a guitar.
PW: What performance would you revisit if you had a time machine -- both of your own and of any other performer?
GP: Of mine -- maybe opening for Jimmy Webb at the Kessler in Dallas. Or maybe my first show at the Bluebird. But I wouldn't really want to revisit those shows because that would mean having to play old songs, and I always think I'm better now than I was then, even though that's maybe not true. Like, it would be great to be a kid again and have another childhood, but that would mean being dumb again and having to re-memorize the multiplication tables so... I wish I could go back in time and hear my dad play when he was my age, though. Back when he and my mom were together and she sang harmony. Or a little further on, in the "You Move Me" days, when he and my stepmom were together and she sang harmony. I wish I could have heard more of his young man songs. My grandparents had a tape player in their kitchen and a bunch of his old demo tapes stashed in the cabinet underneath. I used to get up early in the morning when I stayed at their house and listen to my dad's early songs on cassette tapes before they woke up. I thought they were great songs -- but nobody likes playing their old songs. A lot of those songs never even ended up being recorded. I'm sure there are more I've missed out on.
PW: What is your favorite song to cover and why?
GP: "Crazy" by Patsy Cline (Willie Nelson wrote it). Because I feel like a badass, knowing I can pull it off. It took me years to work up the nerve to even try it.
PW: If you weren't a musician, how do you imagine you'd fill your time?
GP: I'd be a truck driver. Ever since a fateful career day in high school, the idea has appealed to me. Your office is the world, and you get to listen to books on tape and eat fast food all day. Amazing job.
PW: How did the DMA piece materialize? How were you approached, and how did you approach the topic?
GP: So the Dallas Museum of Art does this series called Arts and Letters, where they pair musicians with poets and novelists. They try to find artists with creative overlap, I think. They asked me to play and paired me with Philipp Meyer, who wrote The Son, probably because I have so many songs about Texas. An optional part of the experience is to also write a song inspired by the artwork in the DMA's permanent collection. I wanted to try the commission, so, to prepare for it, I read The Son and thought it was one of the best books I'd ever read. So that was humbling and really lit a fire under my ass to write something good for the show. When I went out to Dallas to find a painting, it was harder than I thought to find inspiration. There's so much great art in the museum, but I had a hard time finding something that felt like it resonated with the songs I write. I also just don't know that much about art and thought I might misinterpret the work and embarrass myself in the process. When I noticed Drouth Stricken Area by Alexandre Hogue, it felt like an obvious choice. It looks like a Dali painting or something because it seems surreal at first glance, but, then, you realize that it's the opposite of surreal. It's stark and literal, to the point of being disturbing. It's a dust bowl scene in Texas. It's just a desolate, empty scene that feels like death. But it's painted in a way that presents it as a fantasy. That combination really struck a nerve with me. I feel like the painting gets at the heart of the national emotion in response to the Dust Bowl, which was basically, "How could this happen here?" It's jarring because the Dust Bowl wasn't some arbitrary act of God -- this was a manmade disaster of biblical proportions. I wanted to write that in a song somehow, so I found some chords that felt weird and right and went from there. Instead of starting with interpretation, I found my way into the song by just describing the painting, the way I saw it and felt it, and that first descriptive verse was my diving board into the song. Then, when I brought my cellist and composer friend Dirje Childs into the picture, it all fell into place. Dirje wrote the beautiful instrumental section in the middle that emotes so well. That was the process. Very roundabout -- not at all the way I normally go about it.
PW: Tell me a bit more about the collaboration with Dirje Childs. The sound you created together is enormous!
GP: I met Dirje at my very first show. There was a song circle that happened after the show, and Dirje had brought her cello along. My dad told me she would be coming to the show and to look out for her. When I saw that she'd brought a cello, I asked her to play with me, and she did. She played the whole show with me, having never heard any of my songs before. I was hooked. After that, I started hearing Dirje's cello in my head when I was writing songs. "Speak Tenderly" from my first record was written with a ghost Dirje bowing along in my brain. When I recorded my first album and she came into the studio and laid down her tracks, I wanted to cry because it was so completely right. I don't always get to play with Dirje -- she's in high demand for her skills -- but every time it's amazing. She's a wonderful person, too. It doesn't seem like there's a separation between Dirje and her cello voice. It's soulful and intuitive playing. It's all one warm, dark, lovely thing. I feel like Dirje gets my music in a unique way because she's been around since the beginning, and her playing actually influenced the way I now write.
PW: Any hints toward new music on the horizon? What can we expect from it?
GP: I actually have about four different albums that I'm kicking around in my brain. Right now I'm trying to make sense of the practical side of the recording process -- where the funding's going to come from, where and how I want to record, and most importantly, what I'm going to do with new recorded music that will help justify the expense of making it. It's harder to justify recording music these days because most of us don't have record deals paying for it all on the off-chance that their investment will pay off. Labels don't have the money any more to take those kinds of creative risks. They only bet on horses that are already in first place. So the risk is all on me, financially and creatively. I've got the songs -- hundreds of them, but I'm still trying to figure out how to make being a recording artist make sense. That said, I have a few inventive solutions to the problem. I'll probably try out some of those ideas in the next year or two.
PW: Do you have any performances scheduled in the near future? Where and when?
GP: Lots of shows coming up! I play every week in Austin, Texas -- mostly little cover gigs at restaurants, bars, malls, etc. -- the non-glamourous gigs that pay my mortgage. But every now and then, I get to play a trendy club in Austin, Dallas, or Houston, so that's cool. And once in a blue moon, I go on tour, just to remind myself that some people want to hear my songs. In January and early February, I'm going on tour with my buddy Brian Pounds, and we've already got some of my favorite listening rooms lined up for that -- The Bluebird Cafe in Nashville, the Red Clay Theater in Atlanta, Uncle Calvin's in Dallas, and some others. I'll be adding more dates in the coming weeks to that tour schedule. It's going to be really fun.
If you'd like to find out more about Grace, including her tour plans, be sure to visit her website. You can also follow her on Facebook, Twitter, or Instagram.