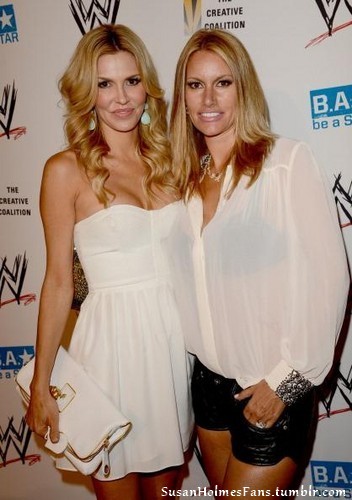 CHECK OUT PART ONE OF THIS EXCLUSIVE INTERVIEW BELOW:
As I drive over to my good friend's new digs, who happens to belong to that tall beautiful blonde independent woman, by the name of Brandi Glanville. I reminisce about some of our pretty cool friendship memories that we've shared together since around '95… Brandi and I' s friendship goes back to our early model days, before we both were married… her to enigmatic film/tv actor Eddie Cibrian, and me to rock star Duff McKagan. We go back before both of us were Momma's to two, and our being followed around by tv cameras, me for E! Channel's "Married To Rock" and her of course with "The Real Housewives of Beverly Hills" and NBC's "The Celebrity Apprentice" … Hell on the red carpet, the paparazzi shout to us as "the double mint girls" ha! What I'm trying to convey here, is I know this girl like a sister, and wanted to show you an additional insiders look (this being part 1 of 3 interviews)… Plus all her rad girly insights, on how she stays looking so fierce! Part One! Action!
Susan: How do you keep your killer bod in such great shape? What's your fave "go to" healthy snack?
Brandi: I work out with my personal trainer Amanda Gold 3x a week, in Encino, CA. She has been there for me as not only a great trainer, but also a friend, as my son Jake, is the same age as her youngest son, so we have a lot in common. We always have lots to talk about, and that makes the workout that much more rapid and fun. The best snack I love right now, are the Gelson's pumpkin seeds (they're accented with a jalapeño flavor) they're super tasty.
S: Who can we credit as your top three favorite designers that you rock on "RHOBH" and the "Celeb Apprentice?"
B: Love, love, love
Diane Von Furstenberg, Victoria Beckham and For Love + Lemons!
S. Fave Lipstick? And Top 5 Skincare Products You Can't Live Without?
B: The prettiest lipsticks for me are the Ellis Faas "Deep Fuschia" Creamy Lips #404, as well as the Victoria's Secret "Passion fruit" Lip gloss w the tried and true, Mac "Spice" liner. Biore brand "Deep Pore Charcoal" is currently my favorite cleanser the best sunblock I've found out there is by Natura Bisse Skinshield 60 (it's the heavier one, with the built-in moisturizer). I'm also a big fan of the Colorscience Pro Sunforgettable Mineral Powder with built-in brush SPF 50, for easy on the go application and it's fantastic as it has SPF in it too. All the housewives use it.
S. I see you get lots of compliments on your twitter feed, regarding your beautiful mane… Give us some of your hair secrets… And curious to know, what color is your hair naturally?
B: I credit amazing hair genius Mark Hasche (at The Peter Mark Salon) in Del Rey Beach, CA. He is also my hair guy that you see on "RHOBH." I swear by "Seven Seconds of Conditioner" you order it online on Amazon.com, it's from the brand United Hair Products. My Mom is of Black Irish, Welsh and German descent., and my Dad is half Heron Indian and half French Canadian.
Be sure to stay tuned for Parts TWO and THREE of this EXCLUSIVE interview!